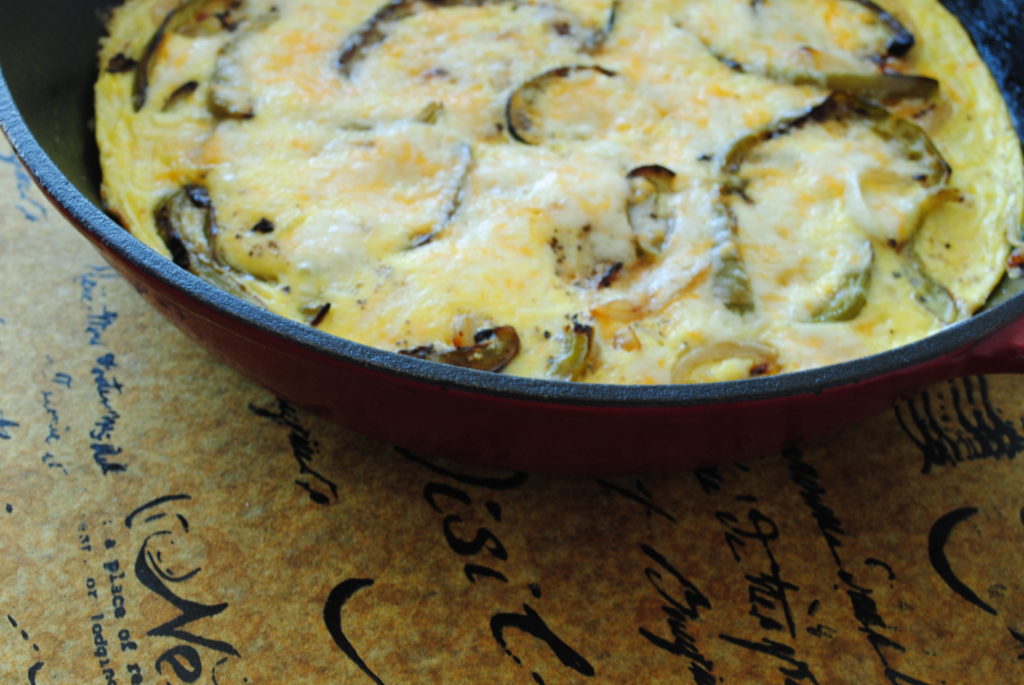 Weekends are so wonderful in so many ways, but one of the things I look forward to more than anything is making a delicious breakfast. It definitely beats stuffing a yogurt or a banana in my purse on weekdays to eat at my desk.
I've been craving bell peppers since last week's Italian Festival in San Jose when I enjoyed a wonderful Italian sausage sandwich with green peppers. It was very good, but I was disappointed that they didn't roast or grill the peppers to create  that charred, carmelized coat that intensifies the flavor.
So for breakfast this morning, I oven roasted some bell peppers and this is what happened.
Hope you enjoy all your weekends!
Cheesy Roasted Bell Pepper Frittata
Prep time:
Cook time:
Total time:
Ingredients
4 eggs
1 large bell pepper, sliced lengthwise in ½ inch pieces
1 medium onion, sliced
½ cup montery jack and cheddar cheese (or your favorites), shredded
1 tablespoon half and half
a little olive oil
kosher salt and pepper to taste
Instructions
Preheat oven to 500 degrees F.
Arrange bell pepper slices on baking sheet and spray with olive oil cooking spray, or toss in a bowl with a little olive oil before placing on sheet. Sprinkle with a little salt and roast in oven on center rack for about 15 minutes, or until slightly charred. Turn at least once for even browning. Remove from pan and set aside. Keep oven on high heat.
While the peppers are cooking, in a heavy bottom skillet (cast iron is recommended) saute onions on medium heat in a little olive oil until tender and slightly carmelized (about 8 minutes).
To the pan with the onions, arrange bell peppers evenly in pan and pour egg mixture over the vegetables. Let cook for a few minutes without stirring. To finish cooking, place on top rack of oven or broiler and cook for a couple more minutes until the egg is fully cooked and the cheese is slightly browned.
Serve suggestion: Enjoy with your favorite toast, salsa or topping. I love this with fresh tomatoes and plain greek yogurt or sour cream.
Enjoy!
Whisk together eggs, half and half, salt and pepper.