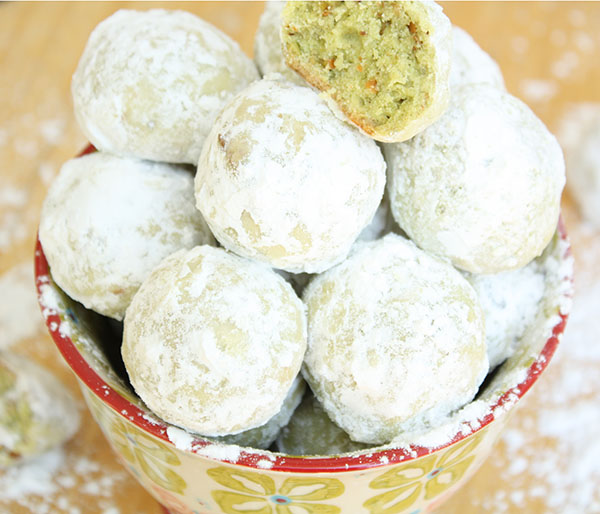 My mother was a good cook who served up a variety of delicious dinners for her four little kidlets. And I didn't think about it at the time – but as good as she was at cooking, she could not – or did not- bake. So obviously we didn't eat a lot of homemade, sweet goodies. And now that I'm an avid baker and adore the aroma and taste of all things sweet and baked – I now know what I missed.
But I think I'm making up for what I didn't have – especially when it comes to homemade cookies. I just love them. And when I (or someone I love) get a cookie monster attack, I don't hesitate to stop whatever I'm doing to whip up a batch of cookies, no matter what time of the day or night.
I definitely have an affinity for buttery, shortbread-like cookies, so naturally I'm mad about Russian tea cakes, Mexican wedding cakes, snowballs – or whatever you choose to call them. They are the epitome of buttery, melt-in-your mouth cookies that are delicious and quite addictive. Just for fun, If you're not sure what you to call them, here's a tiny exerpt of history I found on wikipedia:
Russian tea cakes appeared in Russia in the 18th century as a confection used in a tea-sharing ceremony. By the 20th century, they were a part of wedding and Christmas traditions in the U.S., known by their popular "Russian tea" name. Mexican Wedding Cookies, and Bizcochitos, the official cookie of the State of New Mexico, are similar except that they have the addition of anise, although, properly made, the anise flavor is very mild. Many cultures have a similar cookie. In Spain, they are called Mantecosos. I suggest you eat a hearty meal before you bake these because it could be pretty easy to swallow up about a thousand.
I created a pistachio version of Russian tea cakes because, well, I love things just a little more with pistachio added. I also added a touch of green tea powder just for added flavor and color.
Of course you can cutomize these cookies and choose your favorite nuts, and even eliminate the green stuff, but if you are also a pistachio lover, you may never settle again for the more traditional version made with pecans or walnuts.
Anyway, hope you enjoy these if you make them!
 
Pistachio Russian Tea Cakes
Prep time:
Cook time:
Total time:
Ingredients
2½ cups flour
½ cup powdered sugar (plus more for dusting)
1 cup (2 sticks) butter, room temperature
1 cup unsalted, raw pistachios
¼ teaspoon salt
2 teaspoons green tea powder
optional - a dot of Wilton gel food color (blue, yellow)
Instructions
Heat oven to 350 degrees F.
Spread pistachios on baking sheet and toast in oven for about 7 minutes, until aromatic, but not browned. Cool, and then grind in food processor to a coarse meal.
In mixing bowl, add flour, salt, green tea powder and pistachio meal.
In separate bowl or stand mixer, cream butter, add ½ cup of powdered sugar and continue to beat for a few minutes until creamy and smooth. Blend in the vanilla extract and optional food color. I recommend using the gel mentioned in the ingredient list because it's much easier to control the amount of color. I just use a toothpick to blend a tiny bit of color.
Slowly add the dry mixture until blended.
With your hands, roll 1 teaspoonful of dough in your hands and place on baking sheet about 2 inches apart. The sheet doesn't have to be lined with parchment paper. Repeat until dough is used up.
Bake for about 17 minutes until cookie sets and the bottom is slightly golden. Cool completely on wire rack.
Roll in powdered sugar.