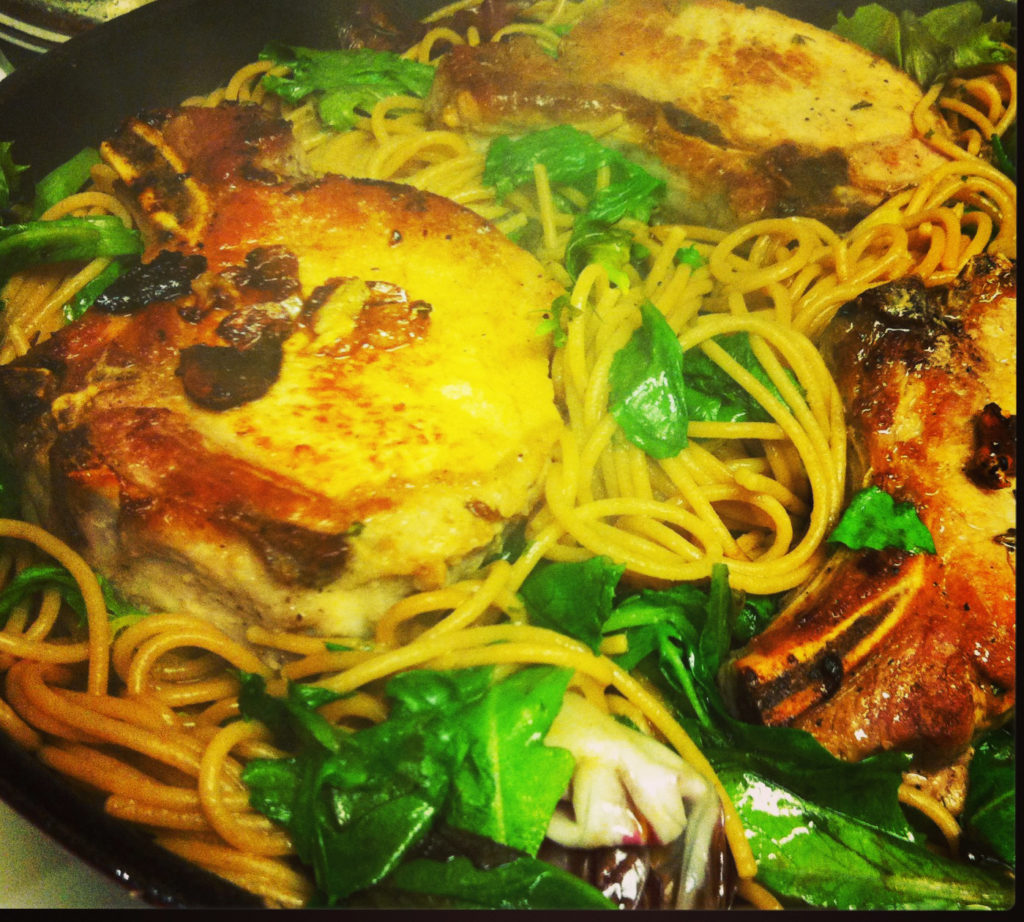 Yesterday, my friend Evelyne had this amazing little party to celebrate her daughter's high school graduation and her sister's 50th birthday. She had a French theme that included French music playing along with French, sub-titled movies in the background. She made Chicken Basquez that was delicious.
The dish I made for the event, pork chops and spaghetti,  didn't quite fit with the French theme, but I noticed most people didn't mind and dug right in! This dish  is one of my all-time favorites because it's easy, fast, colorful and flavorful. It combines all my favorite flavors in one dish. What I love is that the light sauce is created naturally by tossing the pasta in the same pan used to brown the pork chops with garlic and olive oil.  I think you, and anyone you make this for, will love it!

Prep time:
Cook time:
Total time:
Ingredients
6-8 pork chops - for this dish, the thinly cut chops with the bone works best.
¼ cup extra virgin olive oil
2-4 tablespoons freshly chopped or crushed garlic
1 lb spaghetti (not angel hair)
¼ cup white wine
1 cup reserved pasta water
¼ cup chopped, fresh basil
¼ cup chopped, fresh parsley
freshly, grated parmesan cheese (I prefer Pecorino Romano)
Kosher salt and freshly, ground black pepper to taste
optional - baby field greens
optional - crushed red pepper
Instructions
Note: Cook spaghetti according to package directions so that the pasta is ready about the same time that the pork chops are getting removed from the pan. Be sure to reserve a cup of the water before draining. You can use this liquid instead of the wine when tossing everything together in the pan later.
Heat large pan to medium-high with a few tablespoons of olive oil (just enough to cover bottom of pan).
Place pork chops in and sprinkle with salt and black pepper.With spatula, smear some of the fresh garlic on top of the chops.
Brown chops on both sides. Once nicely carmelized, throw in the remaining fresh garlic and a little of the parsley and basil. Add salt and pepper to taste (not too much salt because remember the cheese is salty, so you don't want to over-do it). and simmer on medium until cooked through. If pork chops are thick, you may need to cover and add a little of the wine or water for a few minutes. Remove chops from pan, but *do not clean pan.*
The pasta should be about ready. If not, it's fine to remove the pan from the heat and then reheat once the pasta is done.
Remove pasta directly from the water and carefully add to pan with pork drop drippings. On medium high heat, toss with remaining parsley and basil. Toss vigorously, making sure to scrape all the pan drippings at bottom of the pan. If you prefer to add the greens, add at this step and toss.
When pasta begins to stick to the bottom of pan, add the wine and about ¼ cup of the water you reserved from cooking the pasta. Continue to toss until all flavors are combined (adding more liquid if needed). Toss with parmesan cheese.
Serving Suggestion:
Serve in big and shallow pasta bowl. Top with more parsley and parmesan cheese.
I like to place chops around the side of the dish, but they can be served in a separate serving dish.
Enjoy!