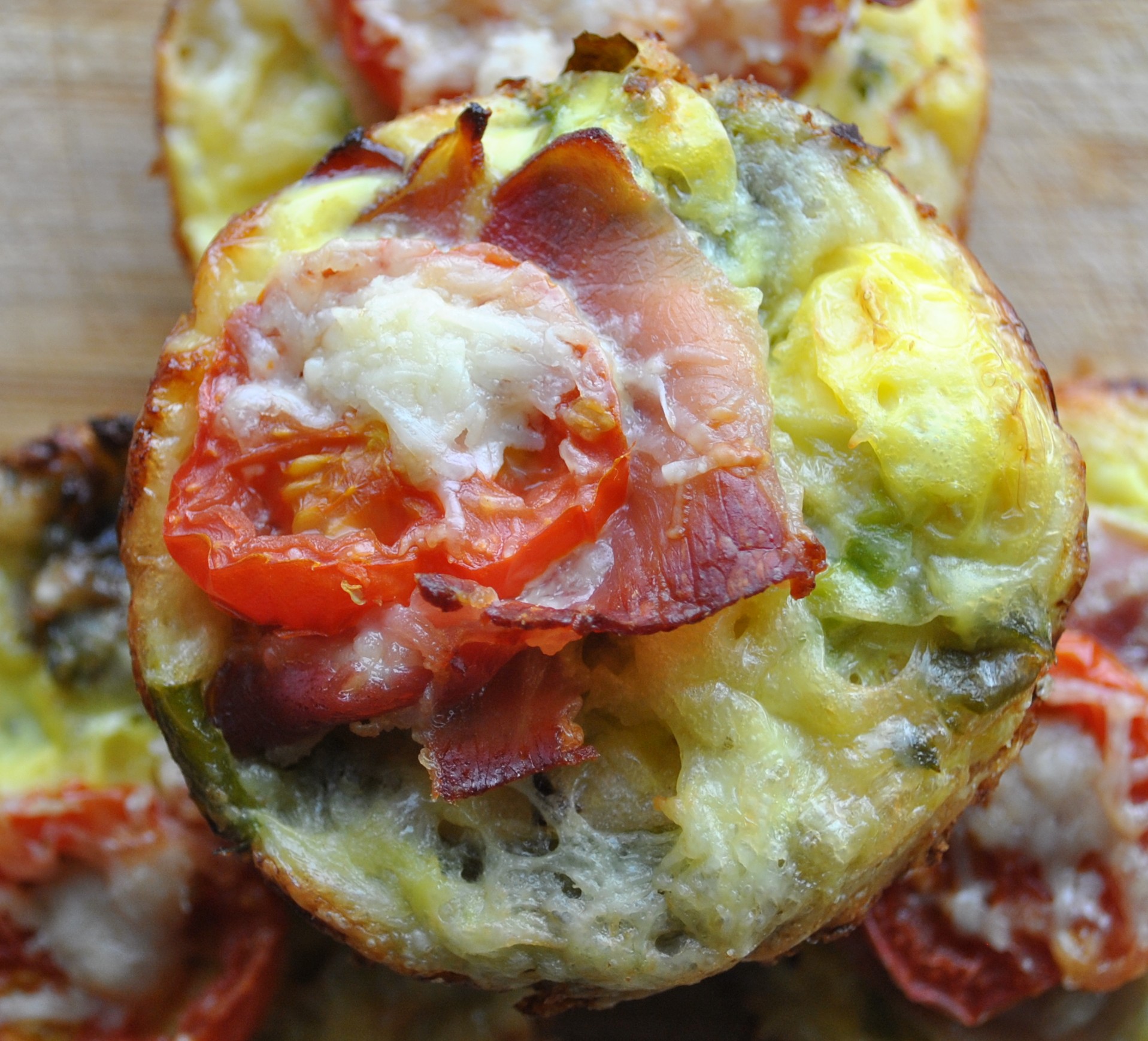 I've always loved the idea of enjoying quiche, but I don't usually come across the kind that really excites me. I typically find that the quiche is prepared with filling that is a little  too separate from the crust. That is, that there's this sort of dry, traditional pie crust and then the filling. But, I prefer a crust that is bit more married to the filling – almost  frittata like – so all the flavors and textures are combined.
Well, I think I created that happy marriage with these little quiche, and they would have been perfect had I remembered to grease the muffin tins so they didn't stick completely to the pan (hello!).  Luckily, with a little patience, I was still able to wrestle them out of the tins in one piece so we could still enjoy them!
These little treats are tasty, cheesy, fairly healthy and perfect for any brunch or appetizer. You can basically put whatever you like in them too.  This version includes shredded brussel sprouts which I love, but if you're not a fan you can always swap out for your favorite veggie! It also includes the recipe for a homemade crust, but if you want to skip that, you can always use  frozen pie crusts. If you can't find mini's just refrigerate until ready to use, roll into small balls, and press into muffin tins.
Mini Prosciutto, Veggie and Asiago Cheese Quiche
makes about 15 mini quiche
Ingredients
6-8 eggs
1 cup milk
a few slices prosciutto
about 10 brussel sprouts, shredded
small tomatoes, sliced thinly
1 cup Asiago cheese, shredded
extra virgin olive oil
kosher salt (to taste)
1/2 teaspoon freshly ground pepper
For the crust
2 cups all purpose flour
1 teaspoon kosher salt
2 tablespoons sugar
1 cup (2 sticks) unsalted butter – 1 stick chilled in freezer, 1 stick at room temperature (butter should be cubed)
about 3 – 7 tablespoons water, iced
Preparation

Preheat oven to 375 degrees F.
The Dough
Add the flour, sugar and salt in the food processor and pulse a couple times. Then add the room temperature butter and pulse until it's completely incorporated. Retreive the cold butter from the fridge, add to the flour mixture and pulse until you see pea-size chunks of butter.
If you can, put the ice water in a spray bottle – it's the easiest way to add the moisture evenly to the dough without adding too much. Just spritz and pulse until the mixture comes together, without being too moist. Continue to do this until your mixture holds together when squeezed in your hand and then easily breaks apart. You may not need to use all the liquid.
Once you have the right consistency, gather mixture by covering with parchment paper, scooping it all up, and then wrapping in a little package with that same parchment paper or plastic wrap. Refrigerate for 20 minutes. This is an important step as it allows all the ingredients to come together nicely.
Turn dough out onto lightly floured, clean surface. Note: Have some dental floss ready as you will most likely want to use it to slide between the surface and the dough if it gently sticks to the surface. This helps you keep the dough in one piece. Roll out a round crust to 1/4″ thickness. To keep it as even as possible, roll from center in an upward motion, turn the dough a couple inches and repeat until done.
Grease muffin tin cups with butter. With cookie cutter (or the top of a cup), cut round shapes and  insert individually in muffin tins. The shell should fit inside each cup up to about the center. To keep the crust from rising and bubbling, fill each cup with dry beans before pre-baking the shells. Bake for about 12 minutes until lightly browned.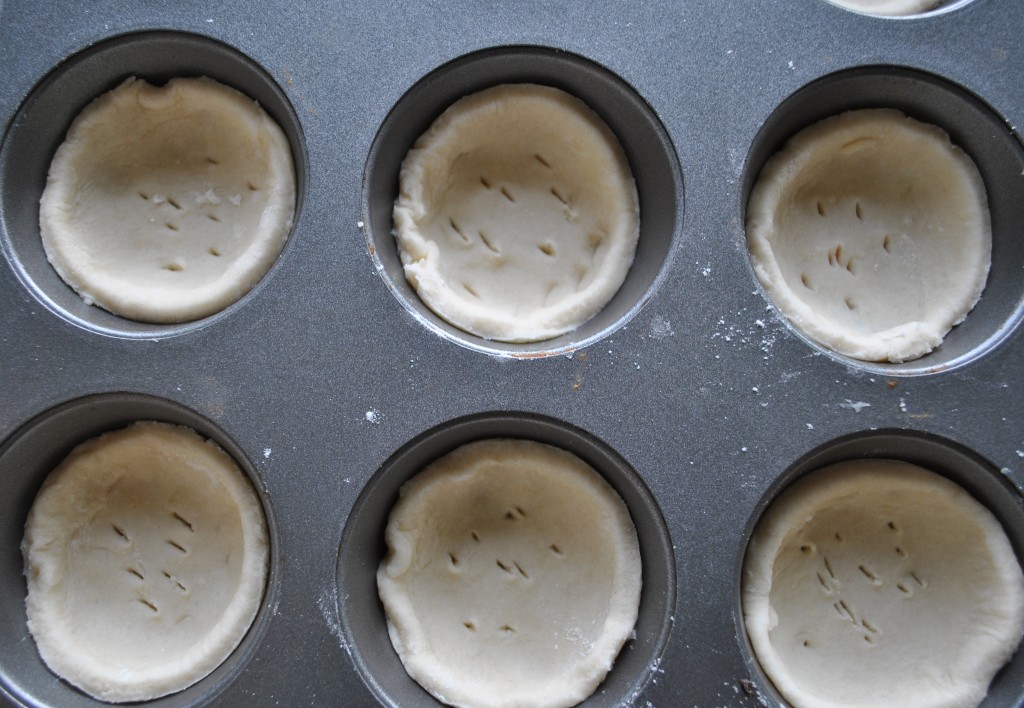 The Filling
Core brussel sprouts and slice thinly. Saute  in a little olive oil until tender (about 15 minutes). Add a little salt and pepper and set aside. In mixing bowl, whisk eggs with a bit of salt and pepper and set aside. In small pot, heat milk to just prior to a boil, remove from heat and cool. Once cooled to warm, beat into egg mixture.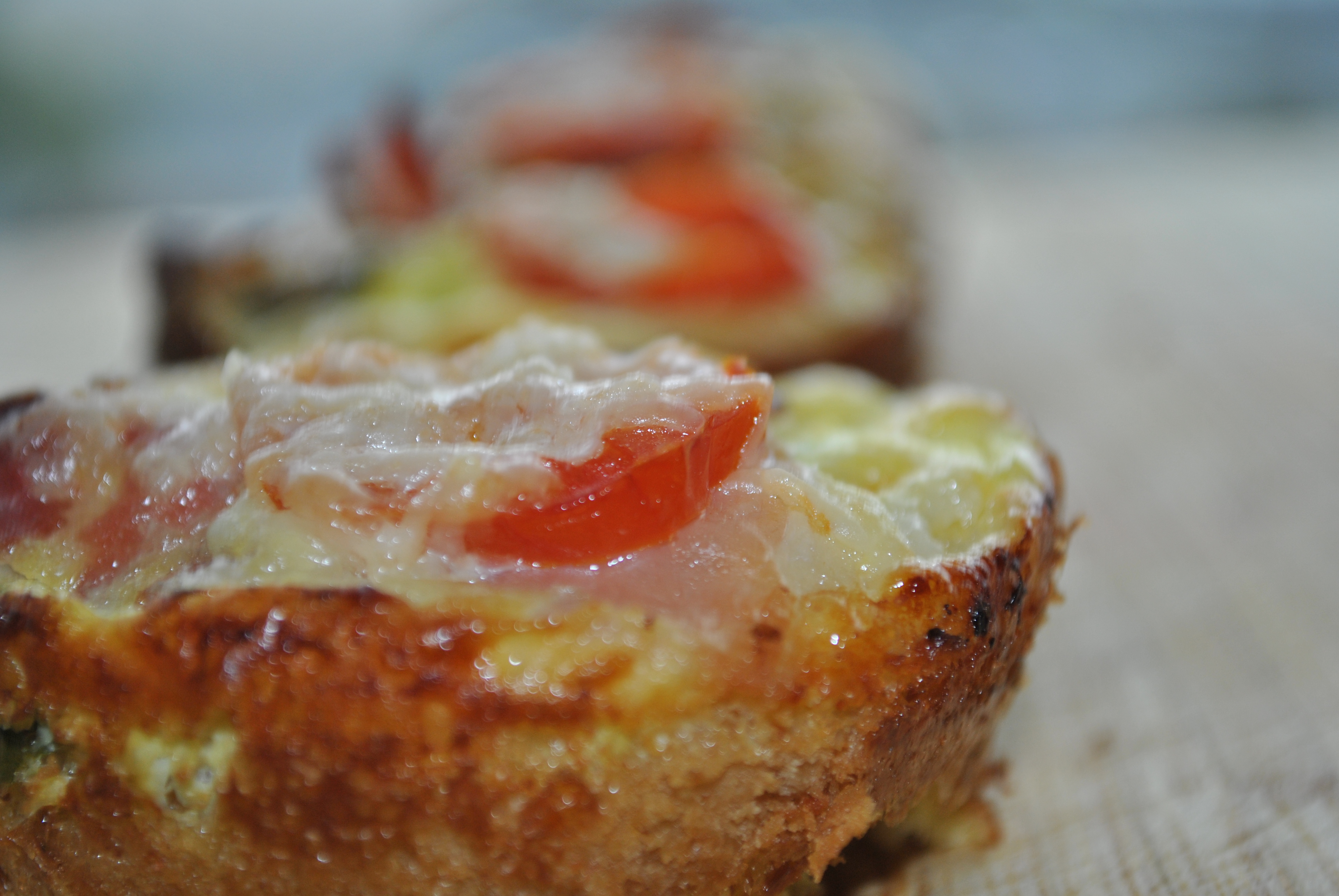 Quiche Assembly
Over pre-baked shells, layer bottom of each muffin cup with a little cheese. Add about a spoonful of the shredded brussel sprouts, then a little more cheese. Pour a little egg mixture over the top, leaving about a half inch at the top (they do souffle, so don't add too much!). Top with a slice of prosciutto, a slice or two of tomato (check out the strawberry tomatoes I used – yum!) and finish with a little more cheese.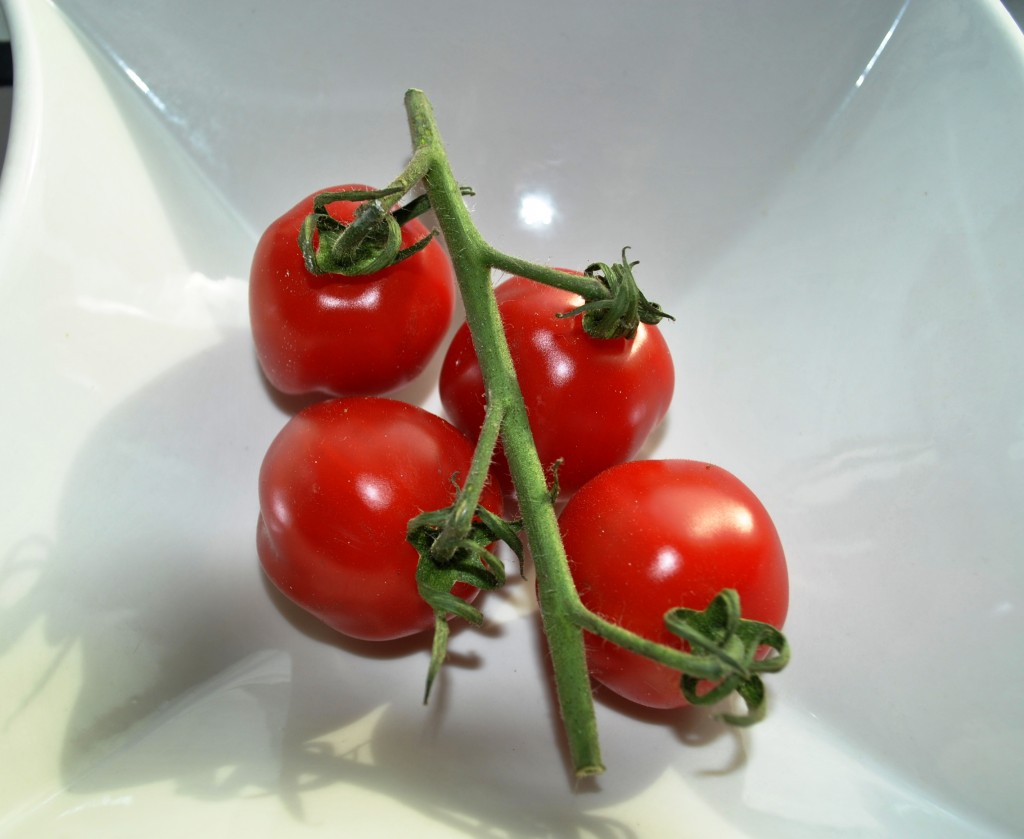 Pop in the oven for about 20 minutes, making sure to check for doneness. The top should look a little crispy and golden brown.
Serving Suggestion
Absolutely perfect party appetizer, brunch, or even a late night snack! They are great served warm or at room temperature.
Enjoy!