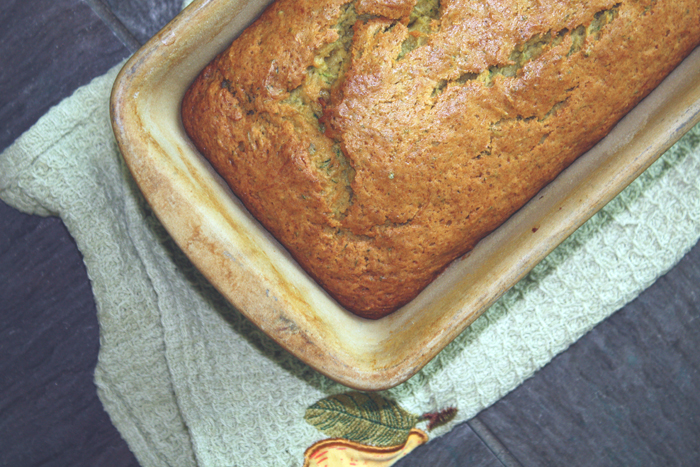 The weather in the Bay Area is finally warming up! I am totally at my happiest when I can jump on my chartreuse classic cruiser with my oversized basket and ride to the Campbell farmer's market to saunter through and select all my favorite fruits and veggies for the week. One of the things I picked up was zucchini and this morning before work I hand-grated a few to whip up a quick zucchini bread using my go-to, never fail banana bread recipe. I brought this loaf to work this morning, snapped a quick photo so I can share it with you – and by the time I went to post, the zucchini bread was gone! In other words, your friends and family will definitely enjoy it!
Zucchini Bread
Total Time: 1 hours
Yield: 1 Loaf
Ingredients
2 cups flour
3/4 cup Loosely packed brown sugar
1 teaspoon baking soda
1/2 teaspoon baking powder
1/4 teaspoon salt
1/2 cup canola or vegatable oil
2 eggs
1 teaspoon vanilla extract
about 1 1/2 cups freshly grated zucchini (with skin)
Cooking Directions
Preheat oven to 350 degrees F.
Grease a loaf pan (preferable a stone loaf pan but it is not necessary) with a little oil and butter and then bounce flour around in the pan to coat.
In large mixing bowl beat together the oil and sugar.
Add vanilla and the eggs (one at a time) and beat in between.
In a separate bowl, mix all the dry ingredients together and then add to the wet mixture and beat until blended. Stir in zucchini until fully incorporated. Use spatula to pour evenly into pan.
Bake for about 50 minutes. Test with a toothpick by sticking one in the top of the bread and making sure that it comes out dry.