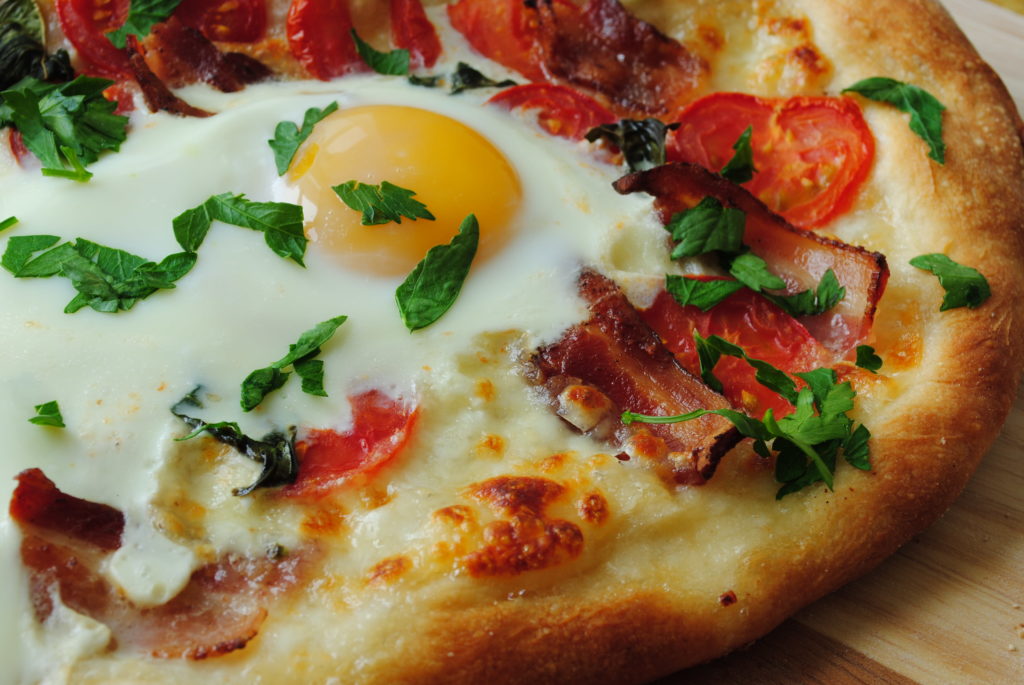 Last year, my daughter and I had a wonderful breakfast at a place in Glendale, CA called Lil' Doms that included a breakfast pizza. Although I had heard how great it was, I just couldn't get past the egg (with that soft egg yoke) – so we ordered the breakfast pizza sans the egg. It was delicious, but I've been curious about how that combination, including the egg, would appeal to me.
I've been meaning to make this one particular pizza dough I found at Chef Chuck's Cucina blog, so I broke out the food processor for the dough and started to think about the combination of ingredients that would make the most delicous and appetizing breakfast pizza. After way too much thought, I decided to keep it simple with good bacon, fresh basil and Italian parsley, fresh tomatoes from farmer's market and fresh mozzarella cheese. The combination of the chewy and crisp dough, with the fresh flavors, and of course the egg cooked just right, was a winner that will become a regular dish served at our home. If you make the dough ahead of time, it's really easy and quick!
Of course you can create any kind of pizza you want using your favorite ingredients, and you don't have to make your own pizza dough – you can get dough that is pre-made. However, I think homemade pizza dough is wonderful, and I especially loved this one from Chef Chuck. It's a keeper.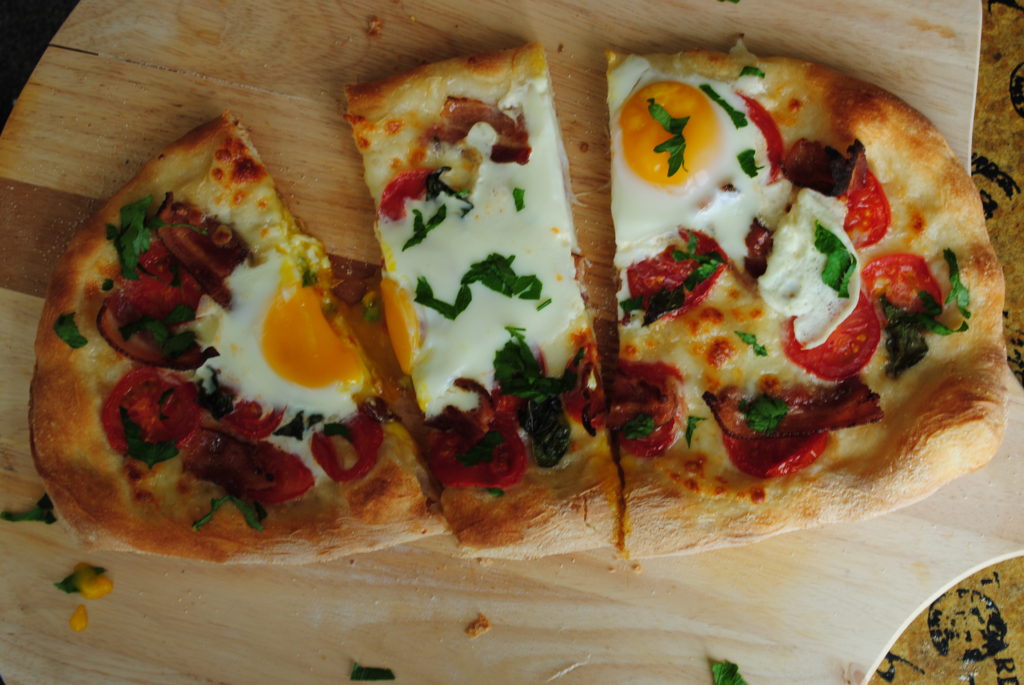 Prep time:
Cook time:
Total time:
Ingredients
For the dough
4½ cups all purpose flour
2 cups warm water
1 tablespoon yeast
1 tablespoon sugar
2 tablespoons olive oil
2 tablespoons red wine vinegar
1 teaspoon kosher salt
For Topping
½ cup sliced fresh mozzarella cheese
4-5 fresh small tomatoes (flavorful tomatoes make a big difference)
2 eggs
4 strips quality bacon
1 tablespoon fresh Italian parsley, roughly chopped
a few leaves fresh basil, ripped in large pieces
a little cornmeal to dust on pizza
Instructions
For dough, add yeast to the two cups of water for several minutes until it becomes foamy; stir in sugar, olive oil and vinegar.
While yeast is dissolving in water, add the flour and salt to food processor jar and pulse a couple times.
Add the water and yeast mixture gradually to the flour mixture and process until the dough begins to form a ball and come away from the sides of the container. Turn out onto floured surface. Sprinkle with flour and knead for several minutes until the dough is smooth and not sticky. Place in oiled bowl, cover with towel and let sit for two hours until double in size.
After two hours, turn out onto lightly floured surface, knead a couple times and cut in ½ or in three equal pieces. Form into balls and use as needed. To use the next day, rub lightly with olive oil, cover with plastic and refrigerate overnight (I prefer using the next day for better flavor).
To make the pizza, preheat oven (with pizza stone if you have one) to 500 degrees F. Place rack in center of oven.
Partially cook the bacon in a pan (don't let it get crisp), remove and set aside on paper towels.
Crack eggs into separate cups (this makes it easy to add them to the pizza when it's in the oven).
Stretch out your dough to desired shape and size. Dust pizza peel (or parchment paper) with a little cornmeal and lay your dough on top, reshaping and leaving a little more thickness on the edges.
Evenly arrange cheese and tomatoes on dough. Then add the bacon and basil (see image). Lightly rub a tiny bit of olive oil on the edges.
Slide onto pizza stone and let cook for about 5 minutes. Carefully add the eggs, one at a time, to the center of the pizza and cook for about another 5 minutes until egg is at desired doneness and the dough is nicely browned on the edges.
Remove and garnish with the fresh parsely.
Prepare to feast on a delicous breakfast!