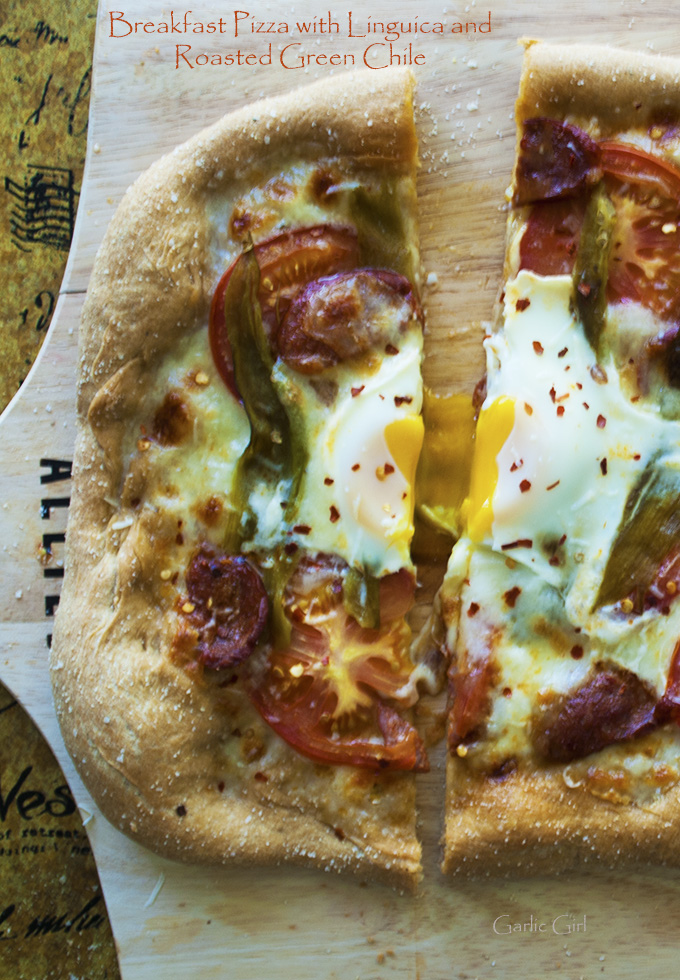 It used to be that weekends meant getting up early and heading out for a run, but lately it seems that weekends are meant for one thing: making breakfast pizza!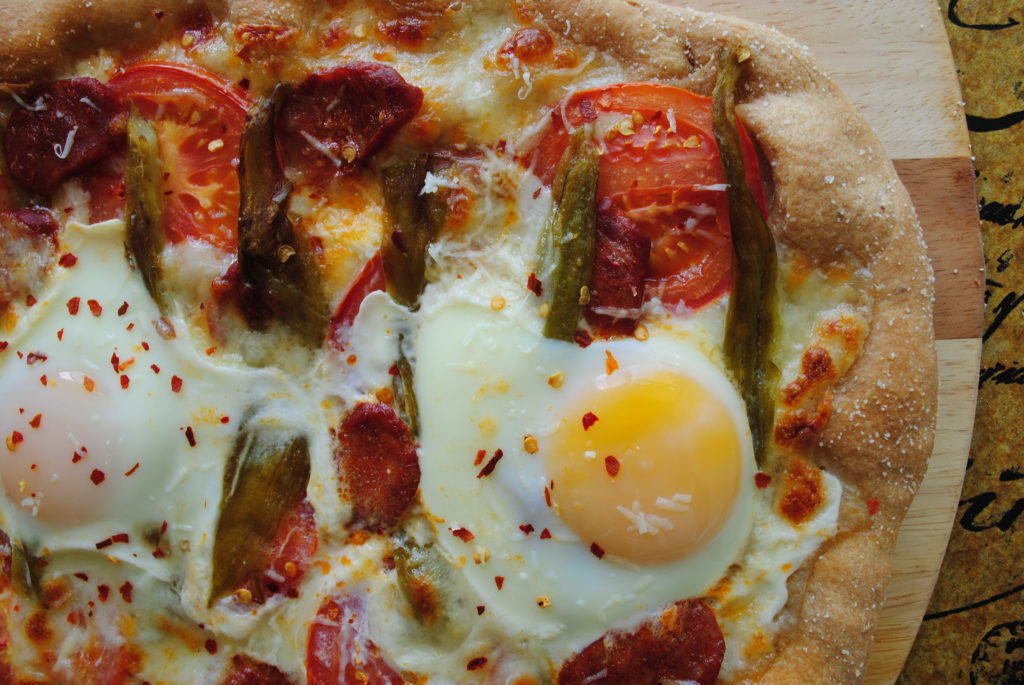 A few weeks ago, I made a breakfast pizza with bacon  we absolutely adored. As delicious as it was, I've been thinking about using the combo of green chile and linguica since those are among my favorite ingredients for breakfast. I also wanted to try a 100 percent whole wheat crust to see if the breakfast pizza was still as delicious. Conclusion – it absolutely is!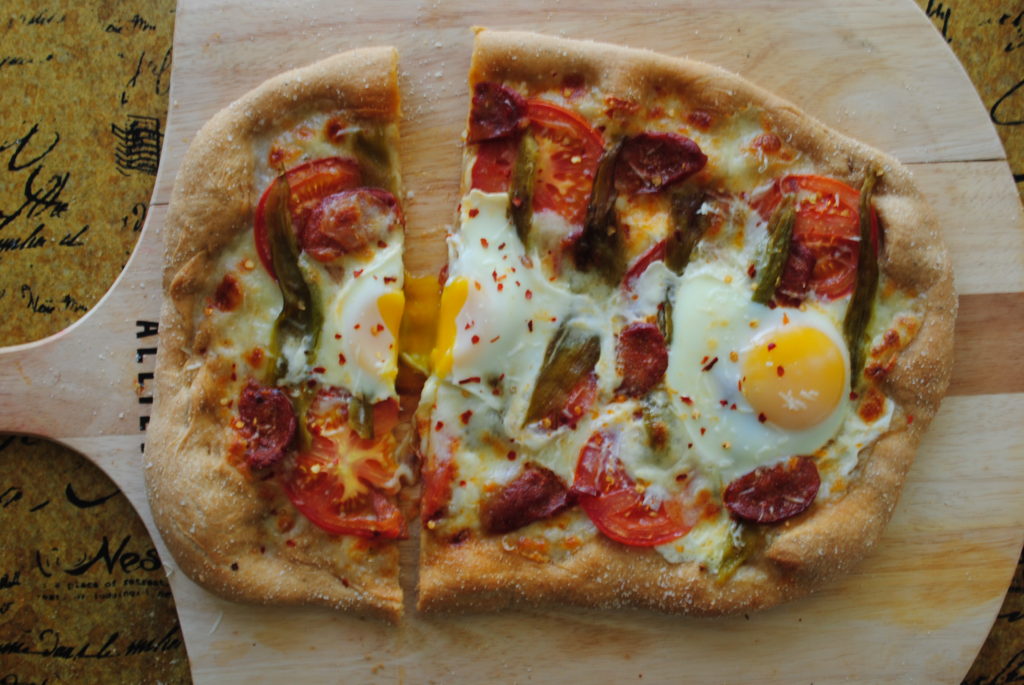 I can't say enough about this whole wheat pizza dough. It is easy to make, chewy and tasty – things you can't say about most whole wheat crusts. And thank goodness it's healthy because it looks like this is becoming a staple in this house. It's great to discover that delicous comfort food we crave can be made healthy!

Breakfast Pizza with Linguica and Anaheim Green Chiles
Prep time:
Cook time:
Total time:
Ingredients
For the dough
4½ cups all white whole wheat (I prefer King Arthur's)
2 cups warm water
1 tablespoon (or 1 packet) active dry yeast
1 tablespoon sugar
2 tablespoons olive oil (plus additional for rubbing on dough balls)
2 tablespoons red wine vinegar
1 teaspoon kosher salt
a little rosemary (optional)
For the topping, use more or less of ingredients to taste
½ cup slices fresh mozzarella cheese
4-5 fresh small tomatoes (flavorful tomatoes make a big difference)
2 eggs
1 Linguica sausage, sliced thinly
3 Anaheim chiles
1 tablespoon fresh Italian parsley, roughly chopped
crushed red pepper if desired
Parmigiano cheese if desired
a little cornmeal to dust on pizza peel
Instructions
For the dough, add the yeast to the 2 cups of warm (not hot!) water for several minutes until it becomes foamy. Add the sugar, olive oil and vinegar.
While yeast is dissolving in the water, add the flour, rosemary and salt to food processor jar and pulse a couple times.
Add the water and yeast mixture gradually to the flour mixture and process until the dough begins to form a ball and comes away from the sides of the container. Turn out onto floured surface. Sprinkle with flour and knead for several minutes until the dough is smooth and not sticky. (You can also knead in a KitchenAid using a dough hook).
Place in bowl rubbed with olive oil, cover with towel and let sit for two hours until double in size.
While dough is rising, prepare the chiles by slicing and removing seeds. Rub with a little olive oil and place on baking sheet in oven at 450 degrees F for about 20 minutes until skin begins to char (see image below). Make sure to turn over for even cooking.
When done, remove from pan and place in paper bag, seal and let cool. Once cool, peel off skin. Now the chiles are ready to slice for the pizza topping.
After two hours, turn dough onto lightly floured surface, knead a couple times and cut in ½ or in three equal pieces. Form into neat balls and use as needed. To use the next day, rub lightly with olive oil, cover with plastic and refrigerate overnight (I prefer using the next day for better flavor).
For the pizza, preheat oven (with pizza stone if you have one) to 500 degrees F. Place rack in the center of the oven.
Crack eggs into separate cups (this makes it easy to add them to the pizza halfway through cooking in the oven).
Stretch out your dough and push downward in center with fingers to desired shape and size.
Dust pizza peel (or parchment paper) with a little cornmeal and lay your dough on top of it, reshaping it and leaving a little more thickness on the edges.
Evenly arrange cheese and tomatoes on the dough. Then add the linguica, chiles.
Lightly rub a tiny bit of olive oil on the edges.
Slide onto pizza stone and let cook for about 5-7 minutes. You want the top to look like it's heating up before adding the eggs.
Carefully add the eggs, one at a time, to the center of the pizza and cook for about another 5 minutes or until the egg is at desired consistency and the dough is nicely browned on the edges.
Remove and garnish with the fresh parsley, Parmigiano cheese, crushed red pepper.
Prepare to feast on a delicous breakfast!