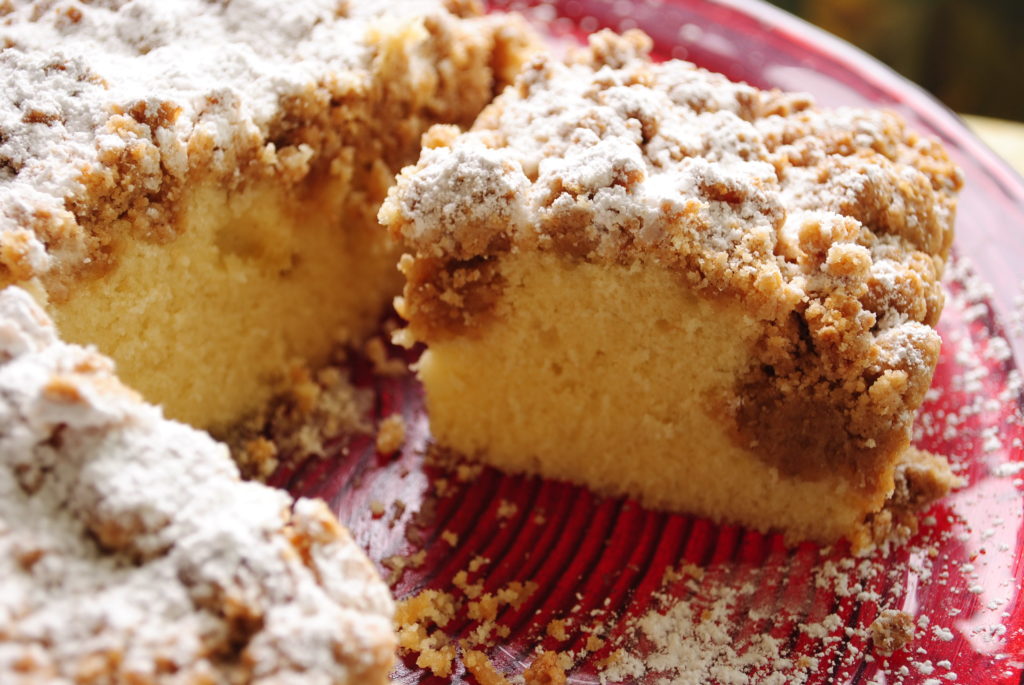 I feel like I hit the recipe jackpot this week because I discovered two perfect recipes that I will go to again and again. One was the Epicurious recipe for chocolate cake, and the other is this recipe for the perfectly sweet, perfectly rich and perfectly crumby crumb cake from America's Test Kitchen. It's exactly the old-fashioned kind of crumb cake I recall enjoying as a kid: dense rich cake, with shortbread-like crumbs on the top.
What I love about the recipe, and the reason I shared the recipe below just as I found it, is that it works! I cannot add anything to this recipe to make it better. If I did, I'd probably ruin it since it's so perfect. Have I raved aout it enough?! Follow the directions below and you will have a crumb cake that you and your loved ones will love!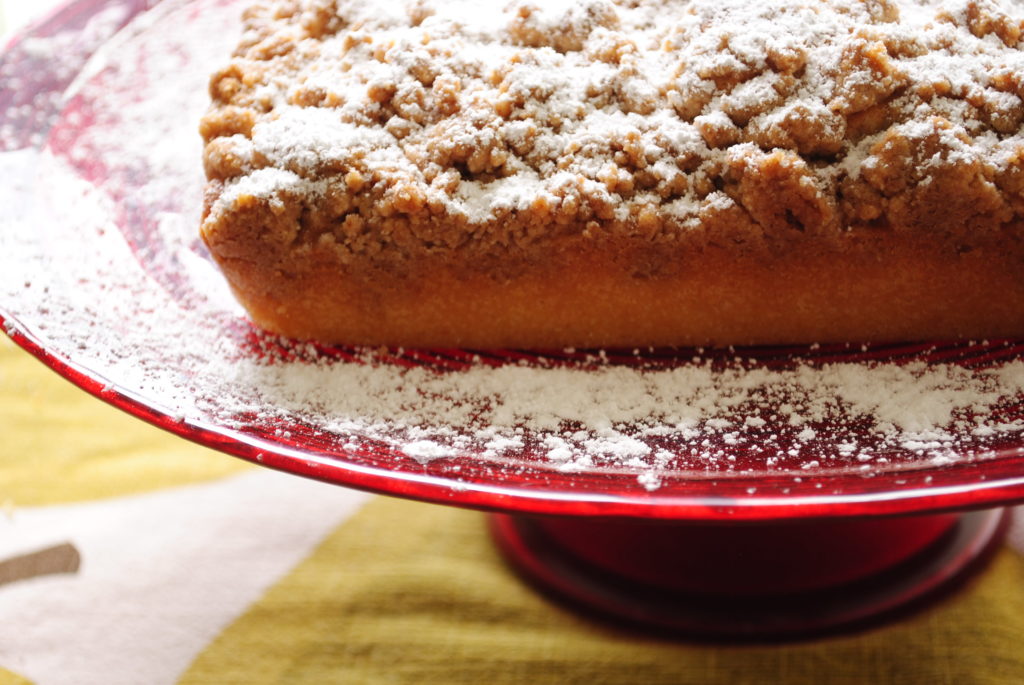 New York Style Crumb Cake
Prep time:
Cook time:
Total time:
Recipe from America's Test Kitchen
Ingredients
For the crumbs
⅓ cup white sugar
⅓ cup packed dark brown sugar
¼ teaspoon salt
¾ teaspoon cinnamon
8 tablespoons butter, melted and cooled slightly (one stick)
1¾ cups cake flour
powdered sugar (for garnish)
For the cake
1¼ cups cake flour
½ cup white sugar
¼ teaspoon table salt
¼ teaspoon baking soda
6 tablespoons butter, softened but still cool
1 teaspoon vanilla
⅓ cup buttermilk
1 large egg
1 large egg yolk
Instructions
Directions:
Place a rack in the upper-middle position of the oven and heat oven to 325°F.
In bowl, combine white sugar, brown sugar, salt and cinnamon, mixing well with your fingers or a fork until there are no lumps.
Add melted butter and stir until smooth. Stir in cake flour until fully combined. Set aside at room temperature, covered with plastic wrap, to allow the gluten to relax, 10-15 minutes.
In work bowl of a standing mixer, combine flour, sugar, salt and baking soda using the paddle. (If you don't have a stand mixer, whisk together in a large bowl.)
With the mixer running on medium-low, add the butter 1 tablespoon at a time, waiting until each piece breaks down before adding the next. Continue mixing until it has a uniform sandy texture. (If working by hand, cut butter in with pastry cutter until very fine.).
Add the vanilla, buttermilk, egg and egg yolk. Run mixer on medium-high until batter is smooth and thick, at least 1 minute. The batter will be very thick, almost like frosting.
Spray an 8"-square baking pan with non-stick spray. Cut a piece of parchment paper 16" by 7½", and lay it into the pan, allowing 2" to overhang each side.(See picture with pan below. It really makes it easy to remove the cake!).
Spread the batter into the prepared pan.
Break the crumb mixture into pieces the size of large peas or small pebbles. Spread crumbs around the outer edge of the pan first, then evenly fill in the center.
Place pan in preheated oven for 35-40 minutes, or until a toothpick inserted in the center of the pan comes out clean. Cool cake in pan at least 30 minutes. Dust top with powdered sugar, then remove cake from pan using parchment sling. Cut into 16 2" squares.