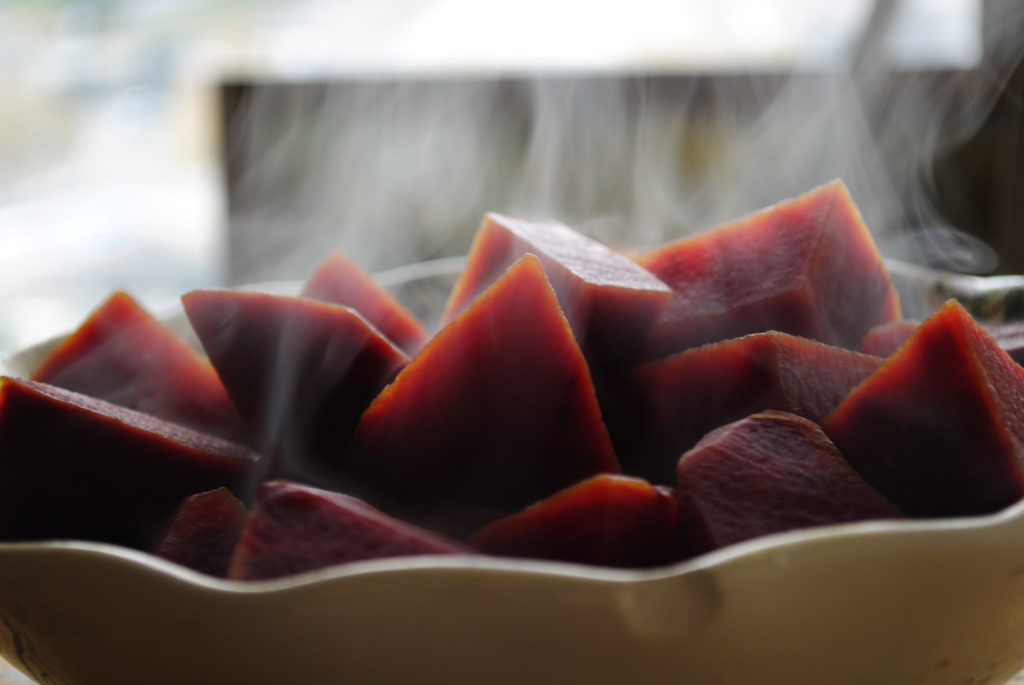 When I'm at farmer's market stuffing all the fruits and veggies in my basket, I  sometimes have a tendency to just ignore beets simply because they take up too much room in my basket, and the refrigerator. That's a really bad idea when I think about it, because I love beets and their wonderfully colorful, healthful and delicious selves. And the best part about them is they don't really require much effort before they can be enjoyed.  
I love to eat them raw, but on a recent cool and foggy day I was uplifted by the simple thought of boiled beets.  So in just a few minutes, there was this bowl of gorgeous beets just sitting there with steam rolling off them. They were so pretty I had to stop and take a photo! And then I tossed them with a tiny bit of olive oil, balsamic vinegar, a pinch of kosher salt and dried dill – and ate them up!
Beets are so versatile. They can be roasted (whole with skin on) in the oven at 425 degrees for about 45 minutes — or you can boil them until tender, like I did. They are also a colorful and crunchy addition served raw in any salad. You can eat them how you like, or season them any way you like! And don't forget about the bett greens – just wash them, sauté in a little garlic and olive oil and you have delicious greens.

Prep time:
Cook time:
Total time:
Ingredients
3-4 medium red beets
pinch of kosher salt
pinch of dried dill
drizzle of extra virgin olive oil
Instructions
Peel beets and cut in large pieces. Boil until you can stick a fork through - about 20 minutes.
Toss with olive oil, vinegar, salt and dill.