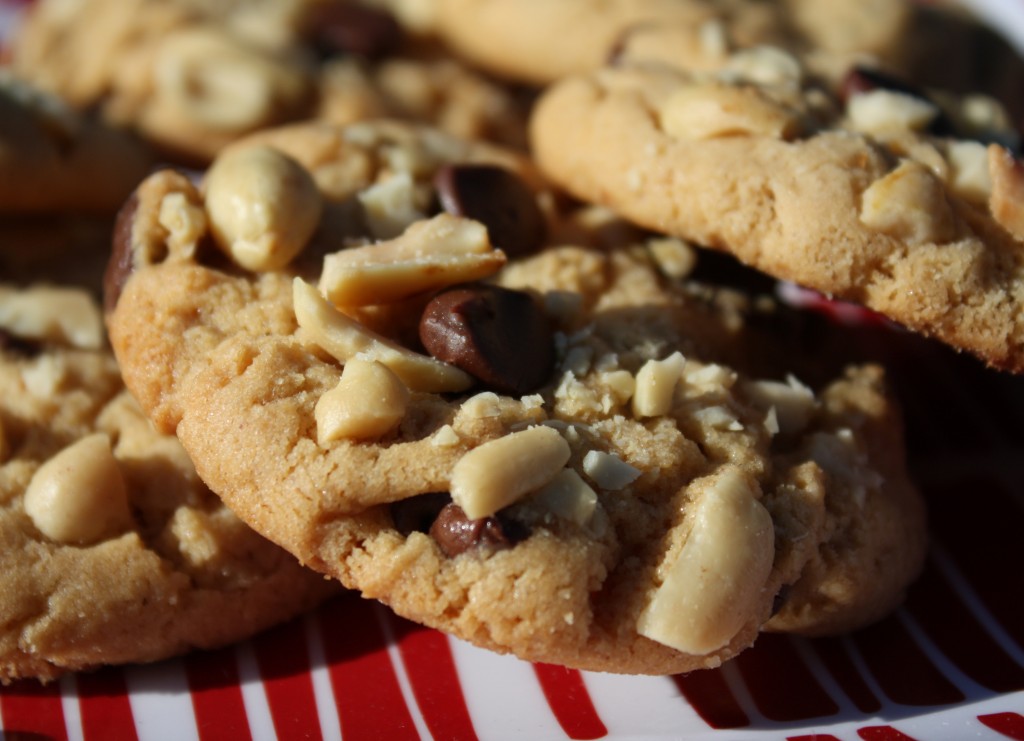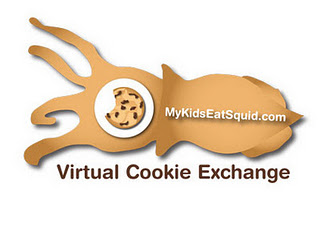 Christmas time or not, I'm stubborn about sticking to making and sharing the cookies I love, not just this time of year, but all-year round.
Don't get me wrong, I love the tradition of baking cookies around the holidays, I just care more about the downright yumminess of a cookie, rather than making cookies that fit a theme or season.
That's why I made my favorite peanut butter cookies for today's cookie swap going on at My Kids Eat Squid.  A few days ago, I also made Hot Chocolate Cookies with Marshmallow Whipped Cream, so feel free to check those out too while you're checking out all the recipes in this swap.
Before you dive into cookie recipe land, I just wanted to add that this recipe can be adapted to your taste. You can forget about the peanuts and chocolate chips and just make a simple peanut butter cookie, because the cookie part of the recipe is just right!
So here are the swappers! Happy cookie baking and Merry Christmas!
Kristen J. Gough
Blog: My Kids Eat Squid
Cookie: Nutella
Teresa Robeson
Blog: Homestead Notes
Cookie: Whipped shortbread
Laura Davis
Blog: Laura's Delicious Food
Cookie: Raspberry thumbprint cookies
Susan Johnston
Blog: Boston Food Swap
Cookie: Old-fashioned molasses cookies
Melanie McMinn
Blog: Frugal Kiwi
Cookie: Chocolate Marshmallow Raspberry Cookie Delight

Peanuty Peanut Butter Chocolate Chip Cookies
Prep time:
Cook time:
Total time:
Ingredients
2¼ cups flour
¾ cup brown sugar, packed
¾ cup granulated sugar
2 sticks butter
2 eggs
1 cup peanut butter
1 teaspoon baking soda
¼ teaspoon cream of tartar
½ teaspoon salt
1 teaspoon vanilla extract
1 cup raw peanuts, skins removed
1 cup semi sweet chocolate chips
Instructions
Heat oven to 350 degrees F.
Roast peanuts on baking sheet for about 20 minutes until light golden brown. Set aside.
With electric mixture, cream peanut butter, butter and sugars until creamy. Beat in eggs, one at a time, add vanilla extract.
In a separate bowl, whisk together all dry ingredients (except nuts and chocolate chips).
Slowly add to peanut butter mixture, beating on low until just blended. Stir in chocolate chips.
Lightly crush peanuts and place in shallow bowl.
Roll a teaspoonful of dough into a ball and press one side into nuts.
Place clean side down and 2 inches apart on parchment-lined baking sheet. Gently flatten top of cookie with spatula or bottom of a clean glass.
Bake for about 10 minutes or until light golden brown.