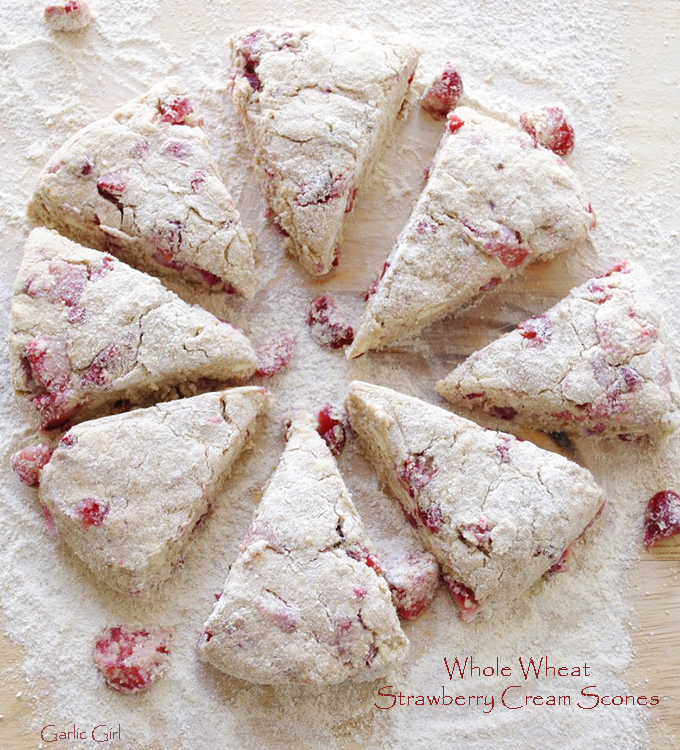 These whole wheat strawberry scones can literally be whipped up and served within thirty minutes.
I was supposed to make these yesterday for my daughter-in-law's baby shower, but actually ran out of time.
These whole wheat strawberry scones are a little bit wholesome and a little bit rustic. They are lovely with an additional scoop of fresh strawberries on top when served warm.
You might get the feeling you're eating something really naughty with these scones, but they are fairly low in sugar, and made with whole wheat flour.
I know sometimes whole wheat pastries aren't as tender, but if you use quality whole wheat flour or white whole wheat flour (try King Arthur's or Bob's Red Mill), it makes a remarkable difference. It's my favorite way to make baked treats a little healthier than usual.
Enjoy!

Whole Wheat Strawberry Scones
Prep time:
Cook time:
Total time:
Ingredients
2 cups whole wheat flour (I highly recommend using white whole wheat, or whole wheat pastry flour)
1 cup strawberries, cut in small pieces
1 stick (8 tablespoons butter), chilled and cubed
5 tablespoons sugar
1 egg
½ - 1 cup heavy cream (depending on type of flour used)
1 teaspoon vanilla extract
2 teaspoons baking powder
½ teaspoon baking soda
I egg white for egg wash
turbinado sugar for topping
Instructions
Chop fresh strawberries and toss with 1 tablespoon of the sugar. It's not absolutely necessary, but you can cover and refrigerate for at least 30 mins for added flavor.
Heat oven to 375 degrees F.
In food processor, add flour, baking powder and soda, 4 tablespoons sugar. Pulse a few times to combine. Add butter to the mixture and pulse about 25 times, or until butter pieces are well-blended and very small.
Empty into bowl, add strawberries and combine.
Whisk cream with one egg until just blended; add vanilla extract. Starting with just ¼ cup of the cream mixture, stir in the heavy cream (gently) until completely combined and dough holds together. If you need to add a little more heavy cream, in addition to the one cup of cream mixture, it's ok. Batter should be thick and slightly tacky. If the texture is crumbly, add a little more cream until it holds shape when gently squeezed.
Turn out onto floured surface, knead a couple times and shape into 8 inch circle, about 1½ inches thick.
Slice like pie into 8 pieces and brush with egg wash. Dust with turbinado sugar.
Bake for about 25 minutes until tops are golden brown