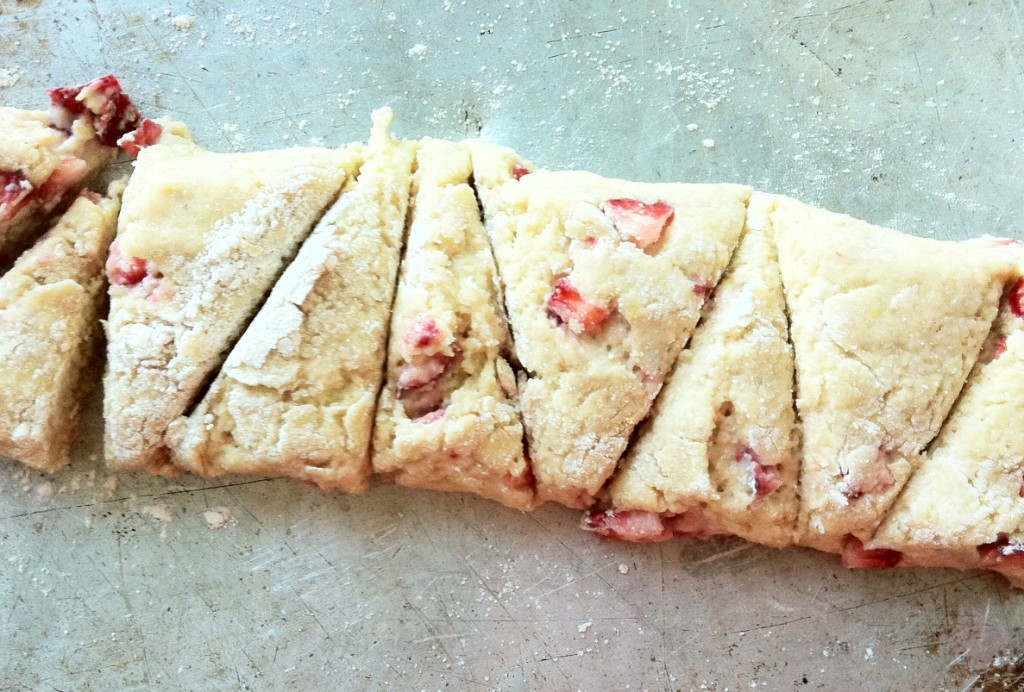 I can't count the number of mornings I've popped out of bed to scurry around the kitchen to whip up a batch of scones to take along with me to work. I'm not sure what drives me to do that, but I suspect  it could simply be the adoration I have for lovely, fresh homemade scones. I'd take a scone over a muffin or cupcake any day!
The other day, one of my colleagues described her favorite scone from a local Santa Cruz coffee cafe. She told me how the ones she loves have a cornmeal base, and that they are packed with blackberries, with a touch of lemon rind. Well, for whatever reason, I knew exactly what that scone would look like, and how I would make it. So the first thing I did on my way home from work that day, was stop at the  market to get the biggest, freshest blackberries I could find. Later that night, there I was at 11:00 p.m.  baking up my version of scones I'd heard about, but never tried before.
I was very happy with the results and have already used this recipe a few times, trying it most recently with strawberries. Honestly, I LOVE this recipe. The absolute best part is you can really make them your own and add whatever fruit or nuts you like! But if you like berries, cornmeal and lemon, I'd try this combo for sure because it is pretty darn good.
Oh, by the way – my friend from work said they were very close to what she gets at her favorite cafe. : ) 
Lemon Strawberry Cornmeal Scones
Prep time:
Cook time:
Total time:
Ingredients
2 cups all purpose flour
½ cup cornmeal
½ cup sugar
2 teaspoons baking powder
¼ teaspoon salt
1 tablespoon grated lemon rind
½ teaspoon lemon oil (or 2 teaspoons lemon juice)
2 cups fresh blackberries
1 egg
¾ cup (or more) heavy cream
Instructions
Heat oven to 400 degrees F.
In mixing bowl combine flour, cornmeal, baking powder, salt, sugar and whisk a couple times.
Add lemon rind; combine.
In small bowl, whisk together heavy cream, vanilla extract, lemon oil (or juice) and egg until just combined.
Slowly add to flour mixture, while stirring. Add enough heavy cream (up to one cup) to hold ingredients together. You should not need more than one cup. Add blackberries and combine.
With clean hands, knead in bowl a few times until there is no more loose flour in the bowl and the berries are well-blended into dough.
Turn out onto lightly floured sheet of parchment paper; knead a couple more times to further combine. It's ok to press runaway berries back into dough. Shape into diagonal log about 3 inches wide and slice in diagonal pieces (see picture).
Place on baking sheet, slightly separate pieces and bake for 20-25 minutes until tops are golden brown.