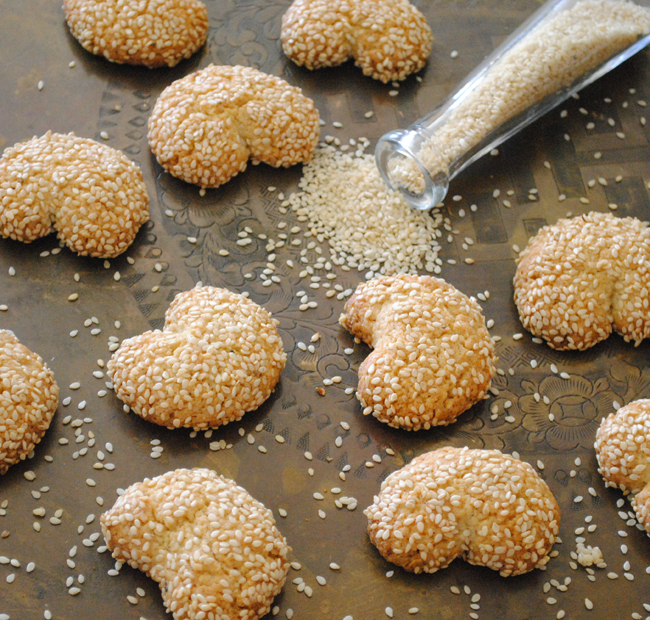 Update: I've made these Italian Sesame Biscotti pretty regulary and have found that I'm more in love with them when I use almond flour as part of the flour mixture. You can shape these any way you like, but I've discovered I like the crescent shape a lot. I've photographed both types so you can see which way you like them. Either way, they are delicious. They can be stored for about a week in an airtight container, or even frozen. Sometimes I just take one or two out of the freezer when I want a wonderful homemade treat with coffee or tea. Everyone loves these little biscotti!
Original post:
I've finally re-created the wonderful little Italian biscotti experience I remember as a child at my grandma's house. When everyone else was going after the cannolis and pasta, I was raiding my Auntie Connie's stash of what I now know to be Biscotti Regina. As I write this, I'm enjoying one right now with my Sunday morning Peet's coffee, and I have the sense that I'm nourishing the Sicilian side of my being!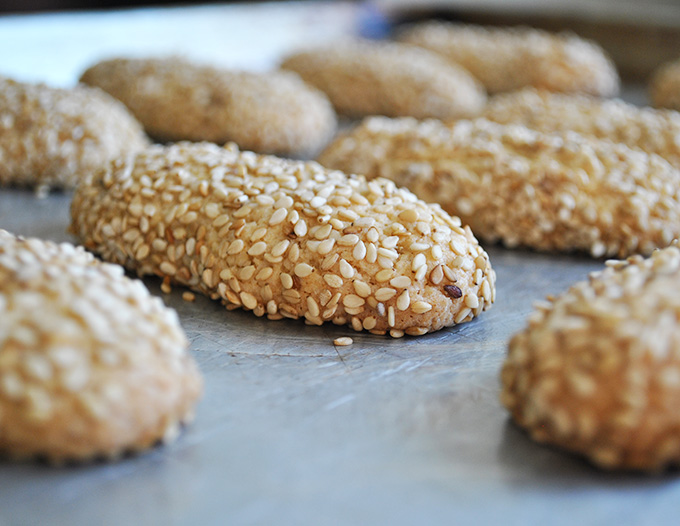 I've tried a couple recipes before, but they didn't quite cut it. So after a little tweak here and there, I now have a recipe I'll make again and again.They aren't too crunchy, too sweet or too soft. They are just right! So make your best coffee and have a moment of enjoyment – or make a batch, split them up in threes or fours and give them to your favorite people. They will appreciate it!
Happy biscotti making!
Makes about 18+ biscotti.
Biscotti Regina (Italian Sesame Biscotti)
Prep time:
Cook time:
Total time:
Ingredients
Ingredients
2 cups all purpose flour
½ cup almond flour or white whole wheat flour (I prefer almond)
1 cup granulated sugar
1 stick (4 oz) butter, room temperature
2 eggs
2 egg whites (for egg wash)
1½ teaspoons Bourbon Vanilla (or vanilla) extract
1 teaspoon baking powder
1 teaspoon anise seed
½ teaspoon salt
about ¼ cup sesame seeds
Instructions
Preheat over to 350 degrees F
In small bowl, whisk 2 egg whites. Set aside (you'll need this after the dough is prepared).
In large bowl whisk two eggs together with extract. In another bowl, sift flours (both whole wheat and all purpose), sugar, baking powder and salt. Add the anise seeds to the flour mixture.
In food processor add flour mixture and butter (cut butter in pieces before adding).
Pulse mixture until butter is evenly distributed in mixture (about 12 times). If you don't have a food processor it's fine to cut the butter in and blend well with you fingers with a rubbing motion.
Now add egg mixture and process for a few seconds until dough leaves the side of the jar. It's fine to knead a few times with your hands while it's in the bowl.
Grease cookie sheet with a little bit of butter (I use a paper towel to distribute evenly). I recommend greasing with butter rather than lining with parchment paper because of the way the sesame seeds bake on the bottom of the biscotti.
Dampen hands a little with water (prevents dough from sticking to hands) and roll about a teaspoon of dough into about a two-inch mini log.
Lightly rub with egg white and then roll it into sesame seeds to completely cover. Line them two inches apart on baking sheet and bake for about 25 minutes.