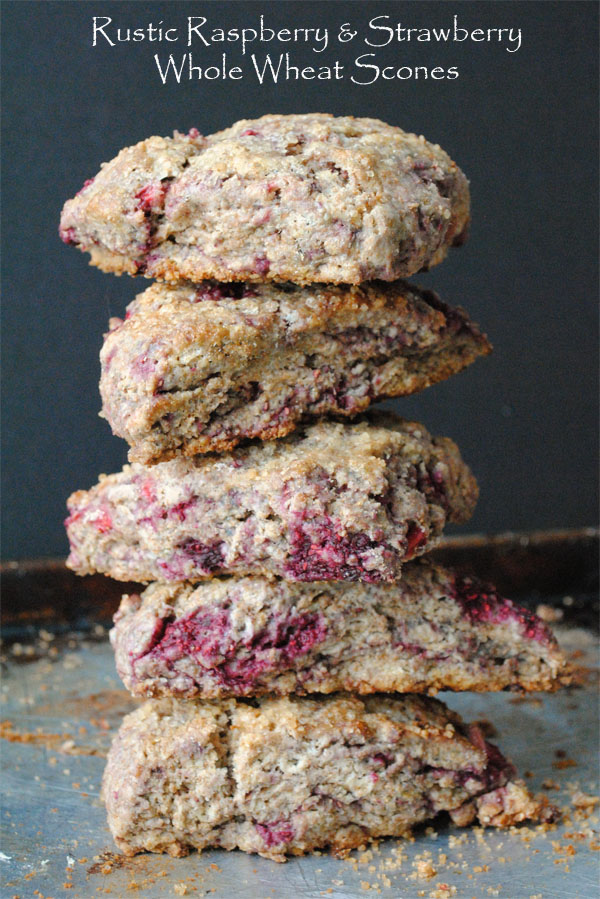 If you follow my blog posts at all, you would know that I'm a little addicted to making (and eating) scones.  If I posted all the scones I make in my kitchen I'd have to rename my blog to Scone Girl instead of Garlic Girl.
A few weeks ago I was contacted by Fruit & Veggies: More Matters to guest post on their blog. Since there are lots of California strawberries in the market, the first thing that came to mind was to make whole wheat scones packed with  red berries. By the way, have you ever checked out the Fruit & Veggies website? Of course I'm not getting paid to say this, but there really is a ton of great info there.
For me, there's nothing better than a warm fresh scone for breakfast served with tea or coffee. I especially like this recipe because it's not only a treat that tastes great, it's also pretty wholesome!
Use fresh or frozen berries when preparing these scones, and if you're using 100 percent whole wheat flour, make sure to use *white* whole wheat – it makes a difference!
Enjoy!

Raspberry & Strawberry Whole Wheat Scones
Prep time:
Cook time:
Total time:
Ingredients
2 cups whole wheat flour
1 cup strawberries, cut in small pieces
1 stick (8 tablespoons butter), chilled and cubed
5 tablespoons sugar (split)
1 egg
1 cup heavy cream
1 teaspoon vanilla extract
2 teaspoons baking powder
½ teaspoon baking soda
1 egg white for egg wash
Turbinado sugar
Instructions
Heat oven to 375 degrees F.
Chop fresh strawberries and toss with 1 tablespoon of the sugar. Cover and refrigerate for at least 30 minutes.
In food processor, add flour, baking powder and soda, 3 tablespoons sugar. Pulse a few times to combine. Add butter to the mixture and pulse about 25 times, or until butter pieces are well-blended and very small.
Empty into bowl, add strawberries; combine.
Whisk cream with one egg until just blended; add vanilla extract. Starting with just ¼ cup of the cream mixture, stir in gently until completely combined and dough holds together. Batter should be thick and slightly tacky. If the texture is crumbly, add a little more cream until dough holds shape.
Turn out onto floured surface, knead a couple times and shape into an 8-inch circle. It should be about 2 inches thick.
Slice into 8 pieces (like a pie) and brush top surface with egg wash. Dust with Turbinado sugar.
Bake for about 25 minutes, or until tops are golden brown.