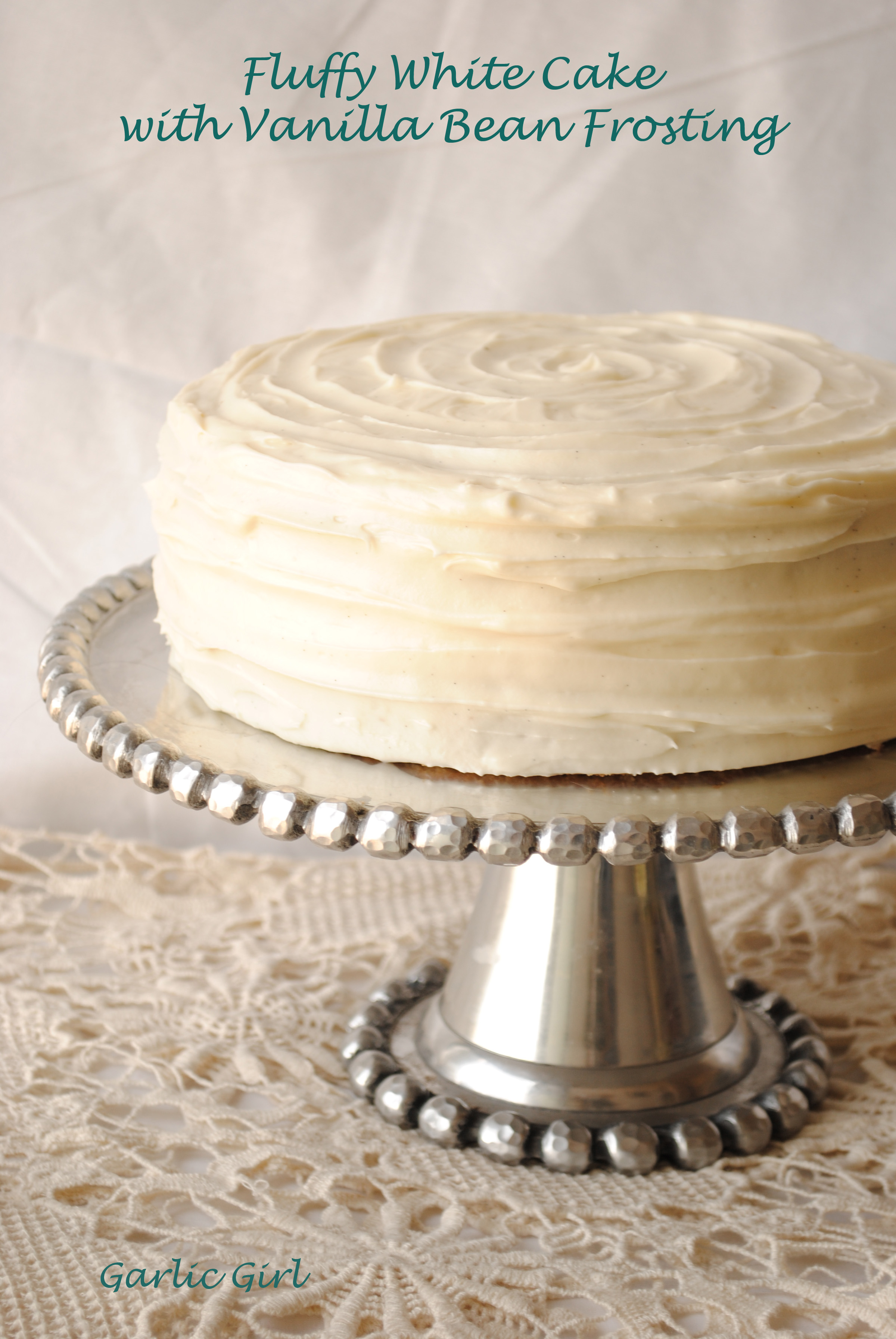 My mechanic just told me yesterday that the car problem I'm having will cost about $4,ooo.
Ugh. Let me just tell you about this cake so I don't have to think about my car.
I really, really,  really love this cake. I got the recipe from one of my favorite food blogs: Sweetopolita. Oh my gosh, if you haven't checked out her blog, you should really check out all the sweet and lovely things she creates! But back to this cake, it's just the perfect white cake that can be topped with just about any kind of frosting. I used a vanilla bean cream cheese frosting. I'm sharing today because I think you'll also love it too – enjoy!

Fluffy White Cake with Vanilla Bean Frosting
Prep time:
Cook time:
Total time:
Ingredients
5 large egg whites (150 g), at room temperature
1 cup whole milk (237 ml), at room temperature
2-1/4 teaspoons (12 ml) pure vanilla extract
3 cups (345 g) cake flour, sifted
1-3/4 cups (350 g) sugar
1 tablespoon + 1 teaspoon (19.5 g) baking powder
¾ teaspoon (5 g) salt
12 tablespoons (170 g) unsalted butter, at room temperature and cut into cubes
For Vanilla Bean Cream Cheese Frosting:
12 ounces Philadelphia Cream Cheese (using that brand makes a difference in taste)
1 stick butter, cubed and room temperature
1 vanilla bean, paste scraped off with knife
4 cups confectioner's sugar
Instructions
Preheat oven to 350°F (180°C).
Grease, line with parchment, and flour two round 8-inch pans.
In a medium bowl or measuring cup, combine and stir the egg whites, ¼ cup of milk, and the vanilla. Set aside.
In the bowl of an electric mixer fitted with the paddle attachment, combine the dry ingredients together on low speed for 30 seconds.
Add the butter and remaining milk; mix on low speed until just moistened. Increase to medium speed and mix for about a minute. Scrape down sides of the bowl and add the egg mixture in 3 separate batches; beat on medium speed for 20 seconds after each addition.
Divide the batter in two and spread evenly.
Bake 25-35 minutes or until a cake tester comes clean when inserted into the center. Be careful to not over-bake. Check cake at 20 minutes, but not before, and once you feel it's almost ready, set the timer for 2 minute intervals. Let cool on wire racks for about 10 minutes before loosening the sides with a small metal spatula, and invert onto greased wire racks. Gently turn cakes back up, so tops are up; cool completely.
Wrap tightly and store at room temperature for up to 2 days, refrigerator for up to 5 days, or frozen for up to 2 months.
For the Cream Cheese Vanilla Bean Frosting, beat cream cheese with butter and vanilla bean paste until very smooth and creamy (about 4 minutes).
Add sugar one cup at a time until blended and desired consistency.
Assembly:
Spread layer of frosting on top of cake layer; place the other layer on top. Spread thin layer of frosting over entire cake and refrigerate for about 30 minutes. This will prevent crumbs from showing when you frost the next layer.
For the look in the photo, just spread frosting generously over entire cake and then swirl with back side of spoon. It's easy!