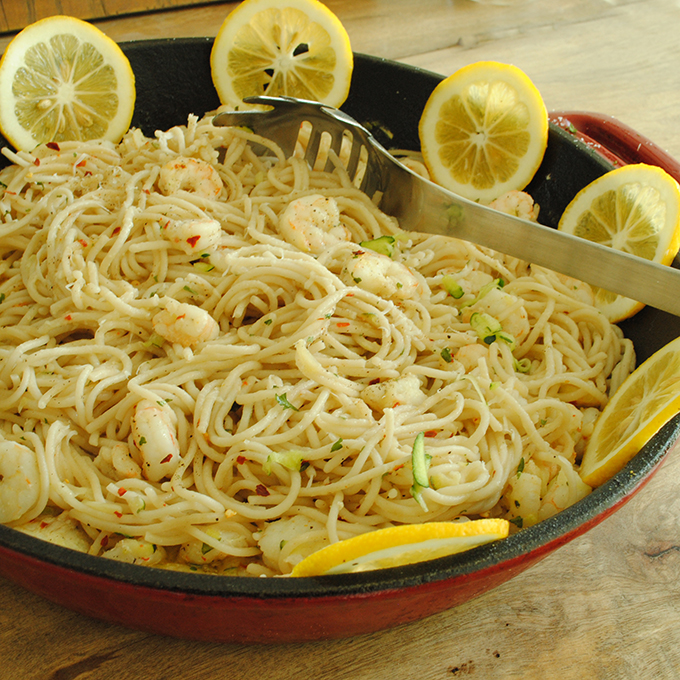 I hate lemon candy or pretty much anything that attempts to imitate the magnificent taste of fresh lemon. That's because fresh lemon is a beautiful thing that can make almost anything look, smell and taste better. This lemon garlic pasta with shrimp dish that accentuates lemon in such a delicious way.
I don't know whether it was a Sicilian thing or not, but my mom's sisters squeezed lemon on almost all of their veggies and salads. That and vinegar. Yep, they were big on lemon and vinegar. And I guess I inherited that from them.
About the Lemon Garlic Pasta with Shrimp
This lemon pasta tastes like someone spent hours in the kitchen preparing it, but it's very simple to make. One of the things I learned from my Sicilian mom is the best dishes are the simplest ones made with the freshest ingredients.
A few nights ago, I celebrated my friend Lisa's birthday at a lovely home in Northern California. The hosts were so gracious, even letting me pick gorgeous, aromatic lemons from their backyard.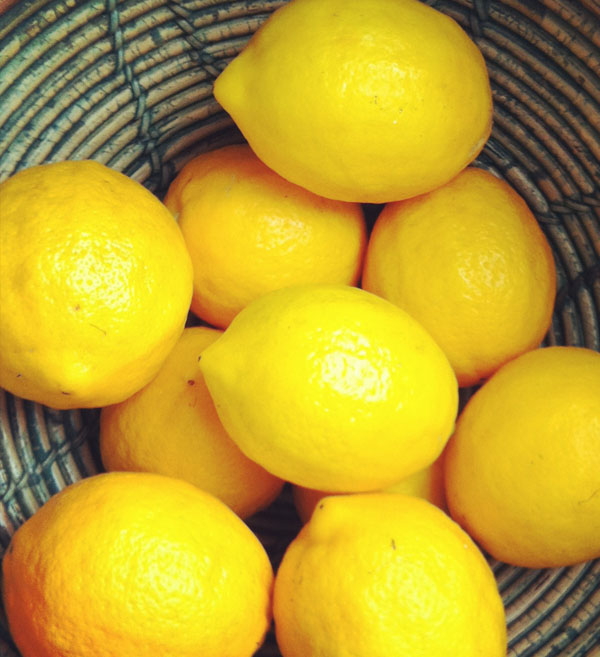 I wanted to make something special with them, so I decided to make this pasta. If you follow these simple directions, you'll see that it really is special. My daughter said it was the best thing she ever ate, but then again she says that about a lot of foods. But I get it – she really liked it a LOT.

Lemon & Garlic Pasta with Shrimp
Prep time:
Cook time:
Total time:
Ingredients
1 pound spaghetti (I used whole wheat)
1 tablespoon butter
3 lemons
6 garlic cloves, peeled and thinly sliced
1 teaspoon crushed red pepper
⅛ cup extra virgin olive oil
1 medium zucchini, finely grated
1 pound shrimp, peeled, deveined
⅛ cup white wine
kosher salt, to taste
black pepper, freshly ground, to taste
3 tablespoons freshly grated Parmigiano cheese
Instructions
Cook pasta to al dente; retain one cup of pasta water and set aside. Drain pasta and toss with a tablespoon of butter; set aside.
To infuse the olive oil with lemon, peel rind off 1-2 lemons with knife (minus the thick white part). Saute rinds in ⅛ cup olive oil on low for 15 - 20 minutes. Leave 2 tablespoons of olive oil in pan and remove the rest. Discard skin and save olive oil for future use.
Squeeze juice from the two peeled lemons; set juice aside.
Finely grate the rind of third lemon; set zest aside.
In pan with lemon olive oil, saute sliced garlic with crushed red pepper on medium for one minute.
To same pan, add shrimp, zucchini, salt, pepper; saute for a few minutes until shrimp is pink (not translucent).
Add lemon zest, lemon juice, ⅛ cup white wine.
Continue to cook for a few minutes and then toss in cooked whole wheat pasta.
Toss for a couple minutes. Add a little pasta water if pan doesn't have enough moisture, or pasta begins to stick together. Taste.
Add more salt if needed; add fresh or dried parsley, black pepper and fresly grated Parmigiano cheese.
Enjoy!