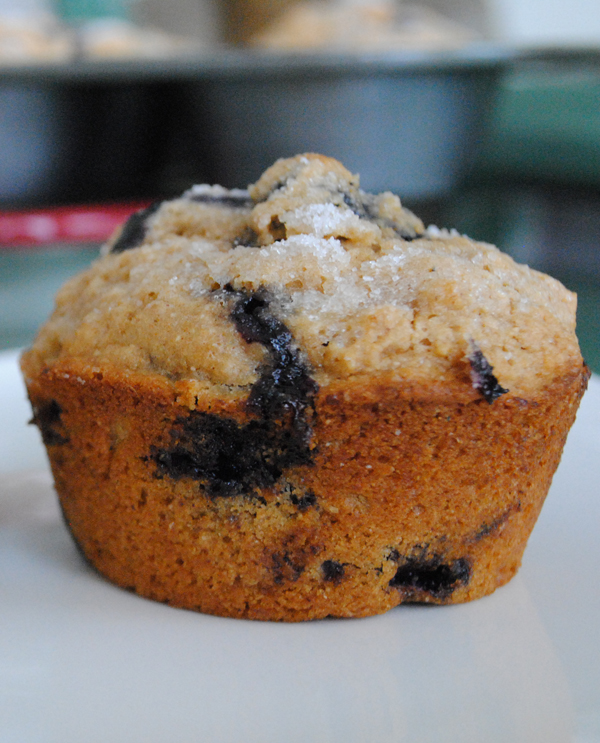 Blueberries seem to come to life when they're baked. They're delicious as is, but I love they way they get all dark and juicy when baked! I can't say I'm a huge muffin fan, and I'll take a scone over a biscotti any old day. But I totally get why some people go crazy over muffins – especially in the morning with coffee.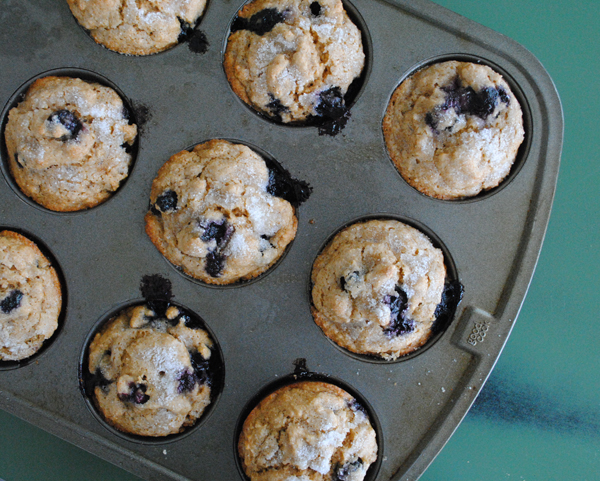 I'm adding this recipe to my blog because I love to collect and share solid, go-to baking recipes that are quick, yummy, and on the healthy side. I snagged this recipe from King Arthur Flour's website and didn't really alter anything.
Enjoy!

Whole Wheat Blueberry Muffins
Prep time:
Cook time:
Total time:
Ingredients
2¼ cups King Arthur White Whole Wheat Flour or Premium Whole Wheat Flour
1 cup brown sugar
¾ teaspoon salt
1 teaspoon baking powder
½ teaspoon baking soda
½ teaspoon ground cinnamon, optional
1 cup blueberries, fresh or frozen
1 teaspoon vanilla extract
⅓ cup vegetable oil
1½ cups buttermilk or plain (not Greek) yogurt; or 1¼ cups liquid whey*
cinnamon-sugar or coarse white sparkling sugar for topping, optional
The liquid drained from plain yogurt when you make thick, Greek-style yogurt.
Instructions
Heat oven to 400°F. Lightly grease the cups of a standard muffin pan; or line with paper baking cups, and grease the paper cups.
Whisk together all dry ingredients, including the blueberries.
In a separate bowl, whisk together vanilla, vegetable oil, and buttermilk.
Pour the liquid ingredients into the dry ingredients, stirring just to combine.
Spoon batter into prepared muffin cups to nearly full.
Sprinkle the tops of the muffins with coarse sparkling sugar or cinnamon sugar, if desired.
Bake muffins for 18 to 20 minutes, until a toothpick inserted into the middle of one of the center muffins comes out clean.
Remove the muffins from the oven, and after 5 minutes transfer them to a rack to cool. Serve warm, or at room temperature. Store leftovers loosely wrapped at room temperature.
Yield: 12 muffins.