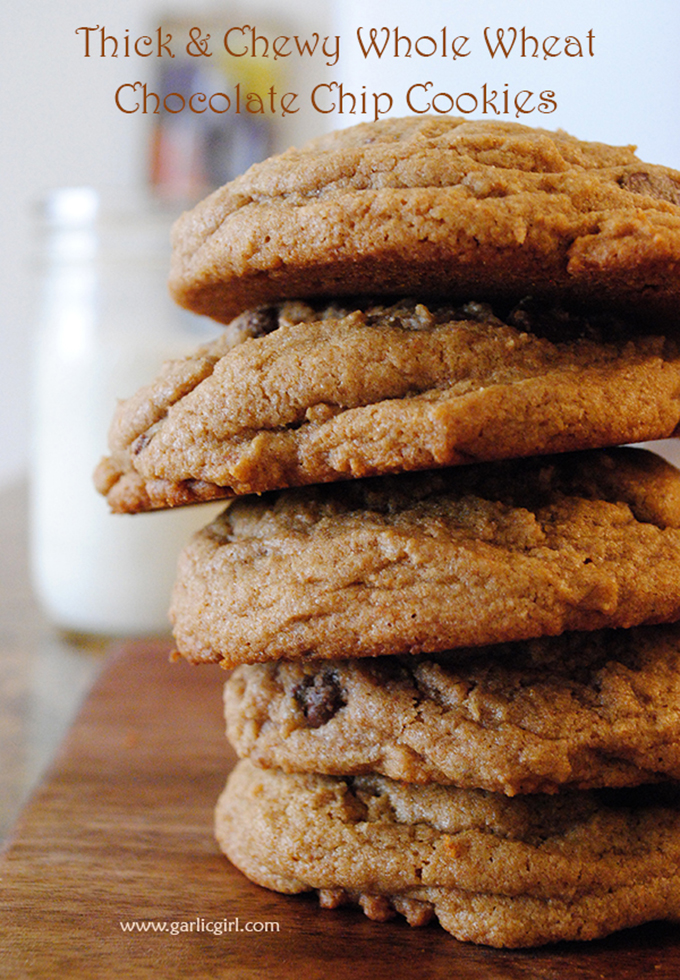 Lately I've been on this morning running kick and have been kind of craving a little sugar by the time I get to the office. I don't really enjoy big breakfasts, so these whole grain chocolate chip cookies are my new favorite thing to have with coffee. I know that cookies aren't a traditional breakfast pastry, but for me it feels perfectly fine. By lunchtime, I'm craving all the good stuff, so I'll have a roasted chicken salad with baby greens, or something like that. It's all about balance! ; )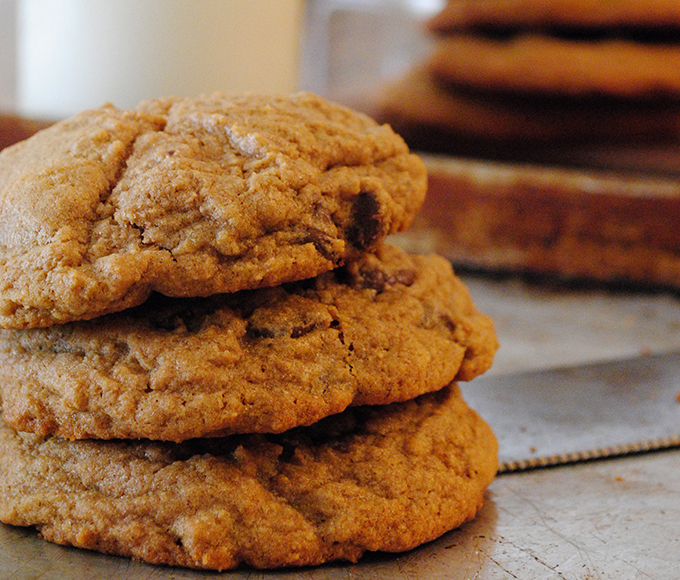 Even if you don't want to eat a cookie in the morning, they are wonderful cookies for any time. I feel better about giving the little ones in my life these cookies simply because of the whole grains. I don't mind baking with white flour, but I definitely prefer to eat baked treats if they are whole grain.
Enjoy!

Thick and Chewy Whole Wheat Chocolate Chip Cookies
Prep time:
Cook time:
Total time:
Serves:
Makes 10 large cookies
Ingredients
2½ cups white whole wheat flour
¾ teaspoon baking soda
½ teaspoon baking powder
½ teaspoon cinnamon (optional)
pinch of salt
2 sticks butter, room temperature
1½ cups packed brown sugar
2 eggs
1 teaspoon vanilla extract
2 cups semi sweet chocolate chips
Instructions
Preheat oven to 375 degrees F.
In mixing bowl, whisk together all dry ingredients minus the chocolate chips.
In electric mixing bowl, beat butter for about three minutes until pale yellow. Add sugar and continue to beat for another two minutes.
Add eggs, one at a time, beating between additions; and then add vanilla extract.
With mixer on slow speed, slowly add flour mixture until just blended. Lastly, add the chocolate chips and continue for a few seconds until blended.
With ice cream scooper, drop onto cookie sheets about two inches apart. For these large cookies, it's best to bake only six at a time.
Bake for about 11 minutes until edges turn golden brown. Let cool for a few minutes before transferring from cookie sheet.