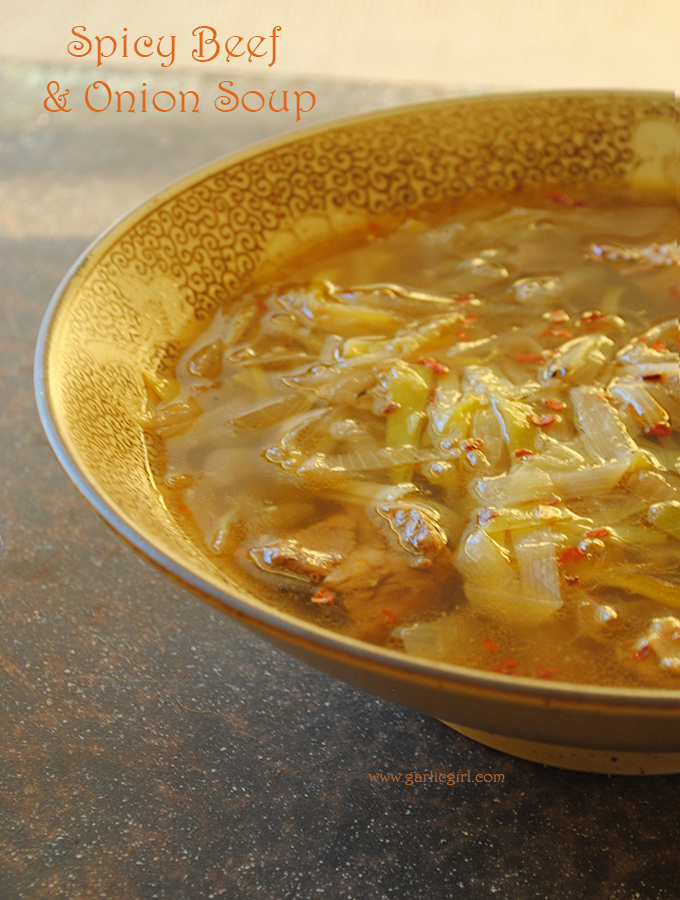 I live in California, but the weather – especially in Northern California – is getting very cold. Last week when I went running by the ocean my face felt numb from the chill! Despite how cold it was, I still stopped to take a photo of the gorgeous sunrise. Each sunrise and sunset I see in Santa Cruz takes my breath away, and some just literally stop me in my tracks.
Who doesn't love soup when it's chilly outside? There's just something so soothing about a steaming bowl of soup. My favorite soups have a lot of clear broth, unlike creamy soups. Those are good too, but a slurping up savory and spicy broth just does it for me.
This is one of my all-time favorite soups with the spice, tender beef and onions. It's actually very simple to prepare, because most of the time is spent waiting until the beef is tender.
I hope you're all enjoying preparing for the holidays. I can't wait to spend more time with my family and take a little time off work.
Enjoy!

Spicy Beef Soup with Leeks and Onions
Prep time:
Cook time:
Total time:
Ingredients
1 pound chuck steak (or any braising beef), cubed
3-4 tablespoons extra virgin olive oil
4 large leeks or 3 bunches of green onions, sliced thin and vertically
3 medium to large onions, sliced vertically
5 cloves crushed, fresh garlic
2 tablespoons sesame chili oil
2 teaspoons crushed red pepper
1 teaspoon cayenne pepper
1 tablespoon Kosher salt (more or less to taste)
1 teaspoon ground black pepper
Instructions
Brown beef cubes in olive oil in large saucepan on medium high heat.
Cover with about 48 ounces of water, bring to boil and simmer for a couple hours until meat is very tender. Skim as needed - especially at the beginning.
In large fry pan, brown onions and leeks in a couple tablespoons of olive oil. Cook for about 5 minutes until tender and beginning to carmelize.
Add chili oil, salt, pepper to taste, crushed red pepper and stir for a minute or two.
Push mixture aside and add the garlic. If pan is dry, drizzle a bit of olive oil over the garlic to make sure that the garlic cooks for about 45 seconds.
Stir together and splash in a little soy sauce and a few tablespoons of the beef broth to integrate all flavors from bottom of the pan.
Empty the onion mixture into the pot with the beef and bring to boil. Turn heat down and simmer for about 20 minutes.