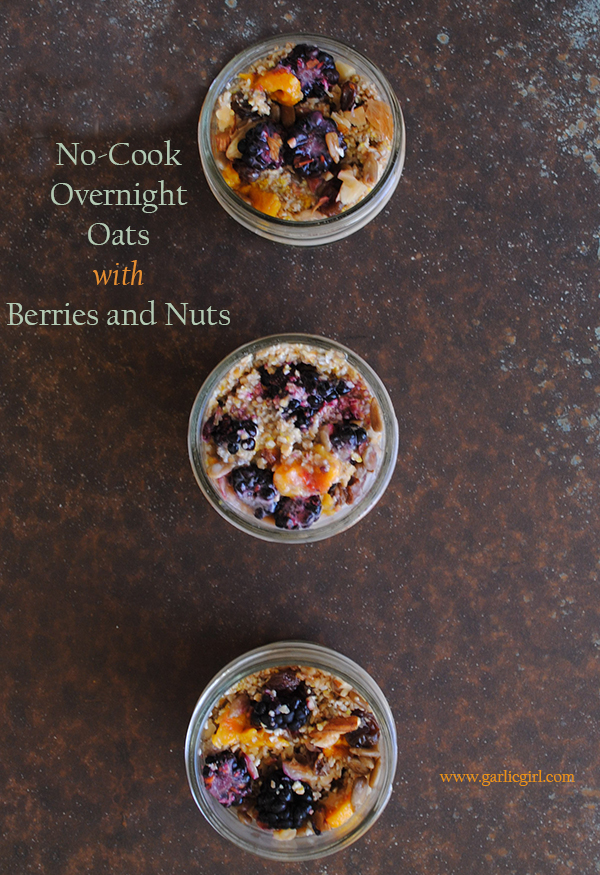 I mostly do what I shouldn't do in just about every area of my life — especially when it comes to taking care of myself and eating healthy. I could try to convince myself that it just comes with the territory as a food blogger, but I'd be lying. Truth is, I'm probably a bit of a food addict.
It's got to be true, because about twice a year I do a big week-long (or more) cleanse when I just drink tons of water and only fresh fruit and veggie juices. It's the *only* time I ever feel like I can totally do without some of the so-called "bad" stuff. For me that means white sugar and flour, and just about anything processed. I guess it's sort of like any addiction that requires a detox program before the strongest cravings subside.
The funny part of all this is that I stay in pretty good shape, and the majority of time I enjoy eating healthy. Some of the foods I include in my daily diet are leafy greens and whole grains like brown rice and quinoa. I recently discovered a way to prepare whole grain oats and oatmeal that is incredibly easy and totally delicious!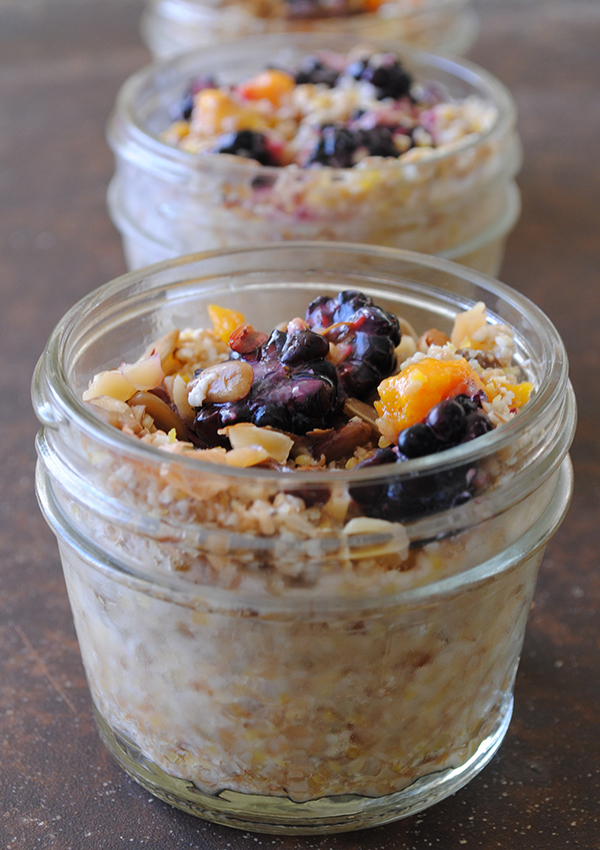 I'm not sure why it took me so long to hop on board with the overnight oats trends, but I'm glad I finally tried it! I got inspired after I received a box of Bob's Red Mill whole grains in the mail (one of the wonderful perks of being a food blogger). And as far as product samples go, I only accept and write about products I already love and adore.
For my first adventure with overnight oats I used Bob's Red Mill 10 Grain Hot Cereal. I'm not sure I will love another oat combiniation more than this one, but I promise if I do, I'll let you know. The reason I love this one is the texture of the mulitple grains – especially the millet. What I love about preparing with the overnight refrigeration method is that the oats aren't as soggy as when they are cooked on the stovetop. The best part is that you can grab your oats and go in the morning! Oh, did I mention it's a delicious way to eat a healthy breakfast?
Here are a few tips for overnight oats:
– Add toppings, including fresh berries, before refrigerating overnight. You can add them in the morning too, but I liked the way everything blended together, and that the little jar was ready to grab and go in the morning.
– Once you add the milk of your choice (my favorite is almond milk), be sure to use a popsicle stick or fork to loosen the oats to allow the milk to seep down to the bottom. Also, wait for the milk to absorb after the first drizzle, and then pour again. It's ok if themilk lingers at the top of the cereal before covering – it will get absorbed.
– Use small, individual jars. I loved using mini mason jars and covering with the lids.
– Enjoy it cold with a little brown sugar or honey! But if you need it warm, it won't hurt if you pop in the microwave.

No-Cook Overnight Oats with Berries and Nuts
Ingredients
½ cup Bob's Red Mill 10 Grain Hot Cereal
½ cup (more or less) almond milk, or preferred milk type
1 teaspoon sunflowers seeds
1 teaspoon chopped almonds
3-5 fresh blackberries (or any kind of berry) chopped
about 6 raisins
1 teaspoon dried mangos, chopped
optional: ½ teaspoon chia seeds
1 teaspoon brown sugar or honey
Instructions
In small mason jar or small glass bowl, add oats to about ⅓ full.
Add dry toppings and gently mix with fork; add berries last.
Pour milk over top and wait a few minutes to absorb. Pour again until a little milk lingers on top.
Cover and refrigerate overnight, or at least 6 hours.
Serve with a little brown sugar (and more almond milk if desired).
Makes 1 individual serving