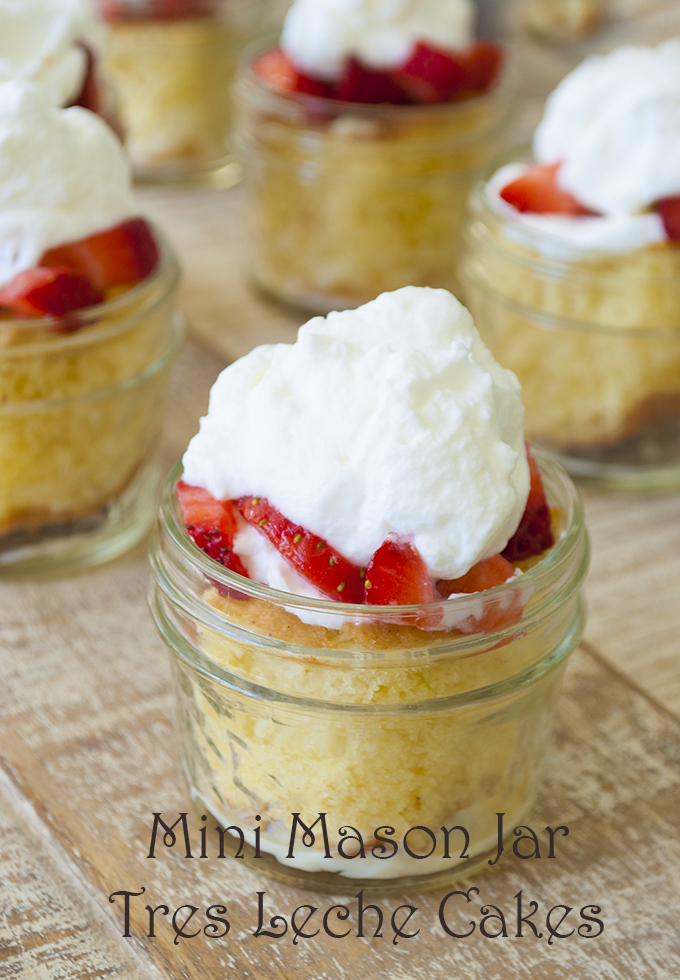 It's a rare occassion when I return to a restaurant because of the dessert. A couple weeks ago, my kids and I went back to Fogo de Chao on Santana Row in San Jose just to enjoy their tres leches cake again. I loved it as much as the first time, and knew I'd have to figure out a way to eat it more conveniently. I told the restaurant manager that I'd figure out how to create a cake that would not get soggy after drizzling with the three milks, or tres leches. He just smiled, like, go ahead a try. So I tried.
I scoured cake recipes knowing that I would need a simple cake that didn't include milk or oil, and came across one that looked about right on All Recipes. Perfect, with a few tweaks. AND easy. I could have easily served this cake in traditional cake form, as it rose nicely and the consistency was just right, but I think certain desserts taste just a little bit better in cute, mini mason jars. Or at least they look a lot cuter!
I can't say this dessert tastes as good as the one at Fogo de Chao, but I think I loved it just as much. The more important point is, this is a fun and totally delicious dessert that's hard not to love, and you don't have to go further than your kitchen to enjoy!

Mini Mason Jar Tres Leches Cakes
Prep time:
Cook time:
Total time:
Ingredients
1½ cups all purpose flour
1¼ teaspoons baking powder
½ (1 stick) butter, room temperature
1¼ cups sugar
4 eggs
1 teaspoon vanilla
Milk Topping
½ cup evaporated milk
¾ condensed milk
½ cup whole milk (or lowfat)
½ teaspoon vanilla extract
optional: 1 tablespoon sugar
Topping
2 cups whipping cream
3 tablespoons sugar
1-2 cups chopped fresh strawberries
Instructions
Heat oven to 350 degrees F.
In small bowl, toss chopped strawberries with a little sugar; set aside in refrigerator.
For cake, sift together flour and baking powder in mixing bowl.
In separate bowl, beat together sugar and butter until pale yellow and fluffy, about 4 minutes.
Add eggs, one at a time, beating between additions. Add vanilla extract.
On low speed, slowly add flour mixture to butter mixture and beat until fully combined.
Pour batter evenly into greased and floured 8x8 square or 9 inch round pan. Note: I found there was enough batter to fill a larger baking pan. Since I wanted the cake pieces to be thick, I used a smaller pan.
Bake for 30 minutes, or until toothpick comes out clean when inserted in the center.
Let cool.
For milk drizzle, whisk together all three milks with vanilla and sugar.
Beat whipping cream with sugar until fluffy, about 4 minutes; set aside.
To prepare mason jar desserts, cut cake in 2 inch squares (or sized to fit in the mason jars). Press one piece in jar and then poke holes from top to bottom. Drizzle about a tablespoon over the top, add a spoonful of strawberries; finish with a dollop of whipped cream.