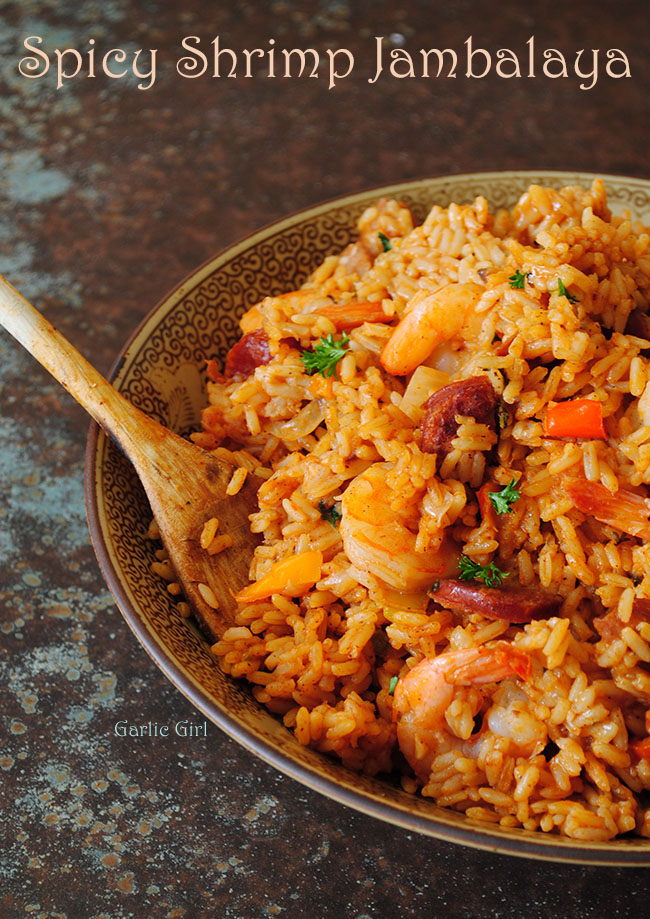 Jambalaya is one of the dishes my kids always ask for when planning family get togethers. I'm not sure why it's taken me about six years to include it on my blog, but it has. My procrastination has reached an all-time high I guess. Aside from what most people think, jambalaya is a very quick dish to prepare, especially if you chop veggies, crush garlic, and just have everything ready to throw in the pot ahead of time.
One of the main tips for making a quick and tasty jambalaya is to use Uncle Ben's Converted Rice. This is not a sponsored post in any way, but I love the way this brand of rice doesn't stick together, and how nicely it absorbs the all the flavors of this dish. I'd also suggest sautéing all the ingredients in layers in the same pot (without rinsing), and making sure to add enough liquid so the rice cooks through. There's nothing more annoying to me than partially cooked rice or potatoes. Yuck! So try these suggestions for  a big pot of  jambalaya that everyone will love.
This version of jambalaya was added to a festive birthday potluck for my beautiful and sweet, almost daughter-in-law, Jessica, who just turned thirty. Recently she started to call me Mil for mother-in-law, and it just kind of made me laugh since my son is a bit of a procrastinator (like his mommy) and is not in a big hurry to get married, despite having been together for about four years.
When my son discusses this topic with me, I remind him that while most people like to serial date these days, without the goal of marriage,  it's still important to think in more serious terms when sharing your life with another person long-term. It's easy to blow off getting hitched when the concentration is primarily on our own needs, desires and freedom – but it's a beautiful thing to actually value another by demonstrating love with a promise to stay and be there through the good, and not-so-good times.
There seems to be a growing trend to please oneself, and less of a focus on sacrificial love and plain and simple old-fashioned family values. Because of that, I believe it makes it easier for most to default to the direction our society is leaning, because that's the norm. But God doesn't call us to do what everybody else is doing – He calls us forward to do His will over our own. And that's hard. But it's awesome too.
Being called to take action and do the right thing over the easy thing is something I've been thinking about a lot lately. And not just in terms of my kid's choices, but my own. Sometimes it's time to step out, step forward and stop being afraid in our lives. If we don't do that, it's easy to get stuck. When we are stuck in our lives, it's hard to make a positive difference in other's lives. And for people like me who want to make a difference in other's lives, it's important to do make that next step, commitment, or choice. I think I will try.
As far as Jaye and Jessica. I'll keep you posted. In the meantime, enjoy your jambalaya!

One-Pot Shrimp Jambalaya
Prep time:
Cook time:
Total time:
Ingredients
4 cups Uncle Bens Converted Rice (uncooked)
4 cups Chicken Stock
4 cups water
1 onion, chopped
1 red bell pepper, chopped
1 orange or yellow bell pepper, chopped
2 Serrano chili peppers, finely chopped
4-5 cloves garlic, minced
1 small can tomato paste
1 teaspoon cayenne pepper
1 teaspoon black pepper
2 tablespoons Tony Chachere's Creole Seasoning
kosher salt to taste
optional: 2 tablespoons butter
3 tablespoons extra virgin olive oil
1 pound shrimp, shelled and deveined
4-5 Andouille sausages
2 sprigs, chopped fresh parsley
Instructions
In large, heavy-bottom pot lightly stir-fry shrimp on medium heat with a couple tablespoons of olive oil for about 2 minutes; remove shrimp with slotted metal spoon and set aside.
In same pan, sauté Andouille sausage until lightly browned on the surface; about 3 minutes. Remove with slotted spoon and set aside.
In same pan, sauté onions, bell peppers for about 5 minutes until tender and slightly charred on the surface. Note: There should start to be a build-up on the bottom of the pot - that's good.
Push veggies to the side and add Serrano peppers (add more olive oil if necessary); cook for about 1 minute; add garlic and cook for another 45 seconds.
Add tomato paste, seasonings, stir and continue to cook thick mixture for a few minutes.
Add half the chicken broth and de-glaze the pan by making sure to scrape the bottom of pan to incorporate all the flavors.
Add the remaining chicken broth, continue to stir.
Add uncooked rice and water and bring to a boil, stirring occasionally. Taste the broth to see if it's spicy and salty enough. Add more if needed.
Return sausage to pot and stir (optional, add butter). The broth should cover everything in the pot completely with about two inches of liquid above the rice. Once boiling, turn heat to low, cover and cook about 30 minutes until liquid is absorbed and rice is tender.
Return shrimp to pot, stir to combine and fluff the rice, and let rest covered for about 15 minutes.
Serve hot.