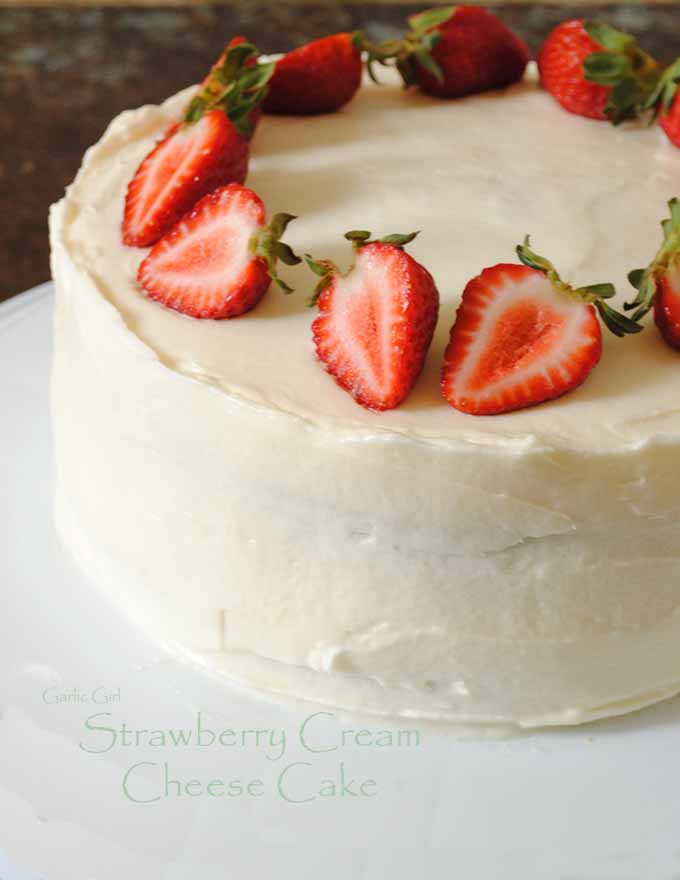 This strawberry cream cheese cake celebrates the birth of my oldest child, Justin. Hard to believe it's been 35 years.
I had Justin when I was 18, and despite being such a young mom  I believed with all my heart I'd be the best parent. But like most parents, I made a lot of mistakes.
There are many days I wonder how I got through raising three kids as a young, single mother, but by the grace of God, it all worked out. Nothing was perfect – or even near perfect – but sometimes it takes those bumps, bruises and mistakes to get us where we need to go, both as parents and children. That's how it worked for me anyway. I still think some of my strengths came from some of the difficulties I experienced with my own mom.
Justin and his beautiful wife have two precious children – a two-year-old and five-month-old. Read about the cake I made his first-born here.
I'm glad those little angels have two loving parents to raise them. I know there's a lot of talk about how love is enough when it comes to raising a child, and how women can be both a mother and father, but from where I stand, I think there's no better team than a loving man and woman to do the job.
Despite being raised in a totally non-traditional way, I notice that Justin seems to value old family tradition. It's nice to see a little boy who used to play with big cranes and dump trucks, now operating them at a major construction company to provide for his family.
I feel all warm inside when things are going great in my kid's lives, and worry like crazy when I see them struggling in any way. The Jewish/Italian side of me wants to blame myself when they have struggles, even though I believe 100 percent in taking personal responsibility and not blaming others. I know it doesn't add up, but I'm working on finding a balance.
I've also beat myself up a million times over missed opportunities to teach my kids more practical lessons about money and responsibility, but then try hard to forgive myself when I remember how busy I was  working, earning a college degree and just being absorbed in the day-to-day tasks that go with raising three kids. Chaos happened, but so did protection, caring and love. My hope is, despite the imperfections and mistakes, that they felt loved every day of their lives, and they learned about faith in God, dedication, commitment, and determination by simply watching me never give up. Maybe in some ways they'll be stronger through their own challenges because of it.
Justin's day is on my mind, but I can't end this post without completely raving about Rose Beranbaum's recipe for the most perfect white cake ever!
I made this cake because Justin challenged me the other night to make a white cake that didn't taste like corn bread. Yes, the last one I made had the texture of corn bread. He admitted he still liked it, but said, "Mom, your cooking is a ten, but your baking is a zero." You'd have to know Justin to think it was funny. I did.
The cream cheese frosting is my go-to recipe, and every time I make it – people love it. I like to take the time to make meringue icings, but I love that this butter cream cheese frosting is both easy and crowd-pleasing.
Inside the cake is a layer of frosting, topped with strawberry compote. It turned out amazing, and I was happy to celebrate Justin, my first-born son, Kim's husband, and Maya and Bradley's father, my kid's brother, his father's  son –  and the man.

Strawberry Cream Cheese Cake and My Son
Prep time:
Cook time:
Total time:
This recipe has been slightly adapted from its original recipe.
Ingredients
3 cups cake flour
1 tablespoon plus 1 teaspoon baking powder
½ teaspoon salt
1½ cups sugar
1 cup milk (divided), room temperature
5 egg whites
2½ teaspoons vanilla extract
12 tablespoons butter, softened and cubed
For the icing
2 (8-ounce) packages cream cheese (preferably Philadelphia brand), room temperature
2 sticks butter, room temperature
3 cups powdered sugar
For the compote
10 strawberries, chopped
2 tablespoons sugar
⅛ cup water
Garnish
8-10 fresh strawberries, halved
Instructions
Heat oven to 350°F.
Grease and flour (2) 9-inch x 1½ inch cake rounds. To make extra sure the cake doesn't stick, add parchment paper to bottom of pans.
Lightly whisk egg whites, ¼ cup of the milk and vanilla in small mixing bowl.
In a large mixing bowl (or bowl of stand mixer), on lowest speed, mix dry ingredients for about 15 seconds.
To dry mixture, add butter and remaining ¾ cup milk. Mix on low until just moistened. Increase to medium speed and beat for 1½ minutes until a smooth thick batter forms.
Scrape down sides. Gradually add the egg mixture in 3 batches, beating for 20 seconds after each addition; scrape down sides.
Scrape batter into prepared pans and smooth surface with a spatula. Bake 25 to 35 minutes or until a tester inserted near the center comes out clean and the cake springs back when pressed lightly in the center. Cool in the pans on racks for 10 minutes, remove and continue to cool on wire rack.
For strawberry compote
Simmer strawberries, sugar and water in small sauce pan until dark red and the consistency of a soft jam, about 15 minutes. Let cool. Note: Can be made the night before and refrigerated.
For frosting
Beat butter and cream cheese until creamy, about 4 minutes. Add sugar a little at a time and beat well until desired texture. For a creamier texture, add a little bit of milk (1 tablespoon at the most).
To prepare cake, spread a layer of cream cheese on first cake. On top of cream cheese, spread the strawberry compote.
Add second cake on top and frost as desired.
Top with halved strawberries.