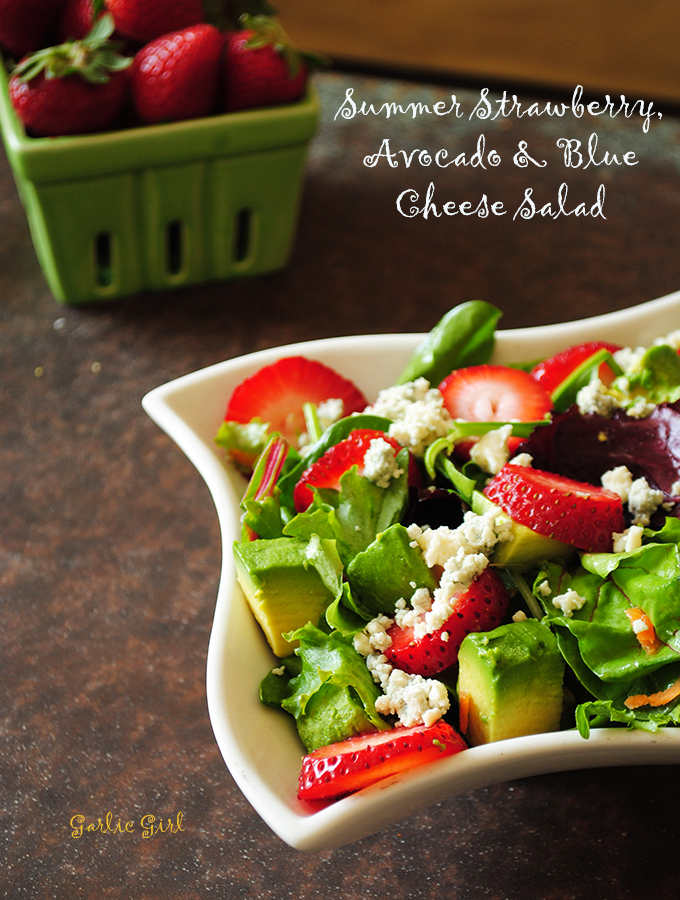 It's embarrassing to admit how many promises I make to myself to eat healthier, and then think nothing about sitting down with friends and devouring a pile of nachos with a beer, and then shortly after head straight for the dessert. And don't get me wrong,  I think we should all be able to enjoy food like that occasionally, but sometimes those occasions add up and it starts to add up on the scale.
I could go on and on about the topic of finding a balance with enjoying food with a little healthy moderation, but instead I'll just say how much I love this strawberry and avocado salad. I love most any kind of salad, and especially love them in the summertime. As the warm weather starts to come our way,  I have visions of lazy weekend mornings strolling along farmer's markets, tasting assorted varieties of plums and peaches while sipping a latte. Aaaaah, summer take me away…
Have you added berries to your salads yet? If not, you might want to give it a try! I especially love strawberries in salad because I don't always like to add tomatoes and I feel like strawberries are a perfect substitution. If I add them, it also tastes great to include a nice savory cheese like blue or feta.
Happy summer and salad making!
Summer Strawberry & Avocado Salad
Ingredients
4 cups of baby greens (or your favorite lettuce)
8-10 strawberries, sliced
½ avocado, cut in cubes
¼ cup blue cheese, crumbled
For the Dressing
⅛ cup extra virgin olive oil
1-2 tablespoons sherry vinegar
1 lemon, juiced
1 garlic clove, minced
kosher salt to taste
freshly ground black pepper
Instructions
For dressing, just shake or whisk all ingredients together until well-blended.
Gently toss all salad ingredients (except avocado) together in large bowl, toss with dressing and then add avocado.
Enjoy!