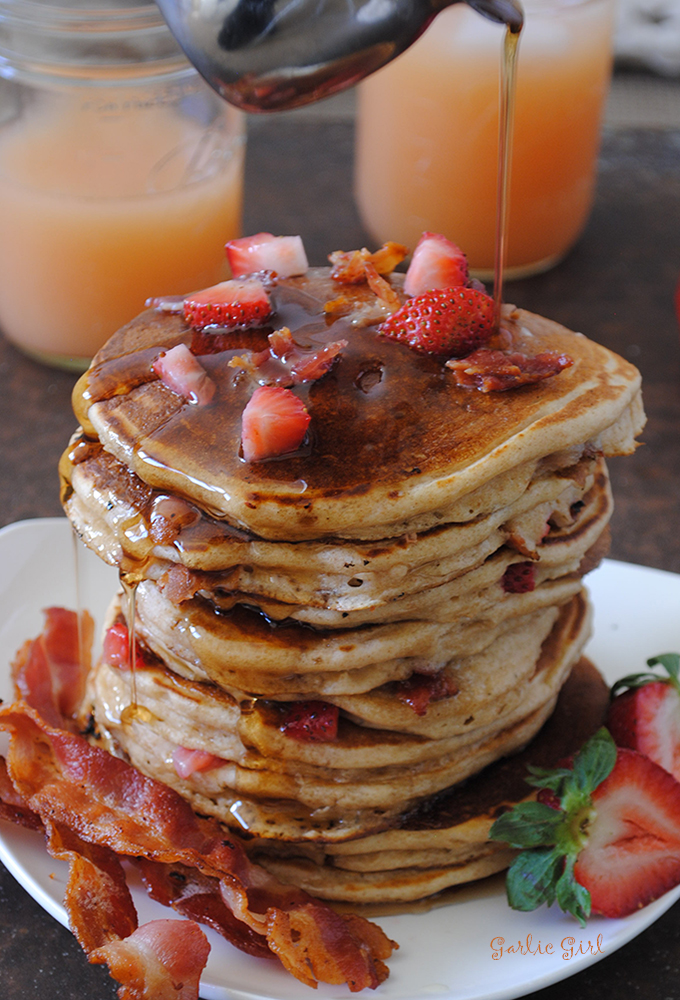 Once upon a time there was a girl who hated pancakes. She thought they were dry and boring. One morning she decided to drop chopped fresh strawberries and crispy bacon onto the tops of whole wheat pancake batter before she flipped them. That very same girl lived happily ever after enjoying her bacon and strawberry-stuffed pancakes.
True story.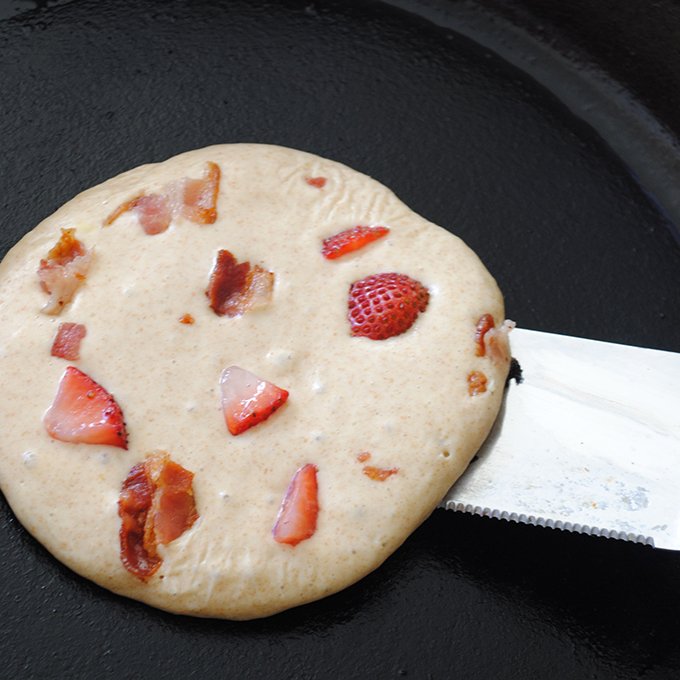 Bacon and Strawberry Stuffed Pancakes
Prep time:
Cook time:
Total time:
Ingredients
1 cup whole wheat flour
1 cup all purpose flour
1 tablespoon baking powder
2 tablespoons sugar
pinch of salt
1½ cups milk (with 1 tablespoon of white vinegar)
2 tablespoons butter, melted and cooled
1 teaspoon vanilla extra
2 eggs
6-8 strawberries
6-8 bacon strips, cooked
1 tablespoon canola oil (for cooking pancakes)
extra butter for tops of pancakes
maple syrup
Instructions
Before starting pancakes, chop strawberries, cook and chop bacon.
In mixing bowl or bowl of stand mixer, whisk together both flours, baking powder, 2 tablespoons sugar and salt; set aside.
In small bowl, combine milk and vinegar and let sit for a few minutes. To the milk add vanilla extract, melted butter; stir.
On medium speed, pour milk mixture into flour mixture and beat for about 30 seconds until blended; scrape down sides with spatula.
On medium speed, add eggs, one at a time, and continue to beat until fully combined (15-30 seconds). Batter should have a little thicker consistency then cake batter.
While batter is settling, wipe heavy bottom skillet with a little canola oil and butter. Heat on medium low until pan is hot. Test heat with a baby pancake for readiness.
Pour batter in pan with a ladle or cookie scoop. Gently drop a few pieces of strawberries and bacon in the center.
Once a bubble forms and pops in the center of the pancake, flip.
Put a little butter on the top of each pancake as you stack them.
To serve, layer with more chopped strawberries and back in between layers and drizzle with butter and syrup.