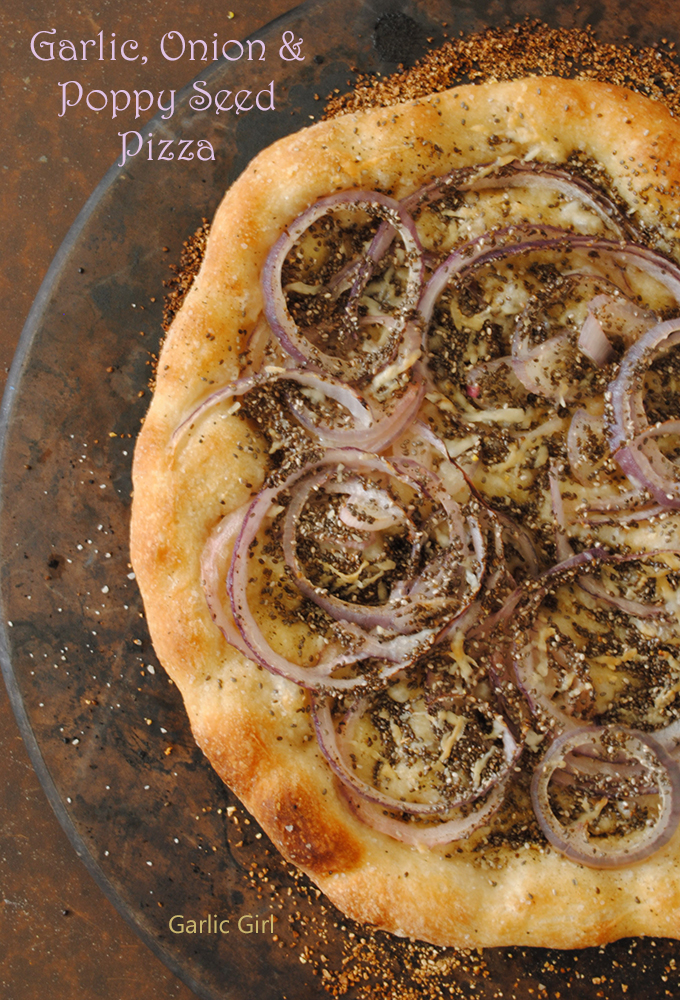 Here's why I think homemade pizza and I could get married: I love it and could enjoy it every single day;  it makes me feel good – and I'm willing to put in the extra time to make sure it's the best it could be; and I never get tired of it. Yup, sounds like a perfect marriage to me. Then again, what does this single girl know about all that? But that's another story, so I'll just tell you about this garlic, onion and poppy seed pizza that is just like a party in your mouth.
I'll never forget Sundays growing up outside Boston for two main reasons. The first, my mother's spaghetti and meatballs, and second – the trip to Eagerman's Bakery with my dad for lox, bagels, cream cheese and the most wonderful onion and poppy seed flatbread in the universe. Well, maybe it wasn't the best in the universe, but since it was my first and last, it was the best to me.
With a Jewish dad and Sicilian mom, it actually never occurred to me at the time that this particular Sunday tradition was a blend of two cultures really. A simple memory, but still a very special one that, to this day,  is a sweet reminder of my heritage. I wish my dad were still here, because I'd love to make him this version of that onion and poppy seed treat we used to enjoy together.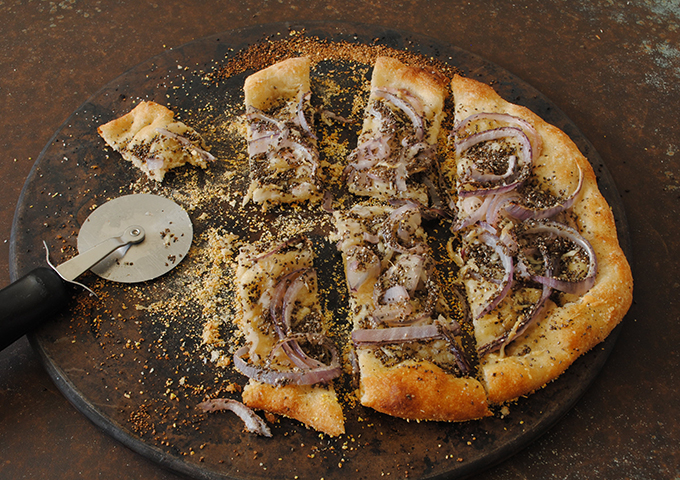 Speaking of my dad, this past Father's Day was a sad one for me and I'm not sure why. How is it that more than 20 years later, I can still cry because I miss my dad? And as I ask myself that question, I know the answer is love. Love has no time stamp. It's unforgettable and powerful. I'm sure that if I live to be 99 I will remember the way it felt to be loved by my father. He was far from a perfect dad, like most parents, but through his actions and his commitment to us, he demonstrated love every day. And as the only girl between three brothers, there was an extra softness in his eyes when he looked at me. I think he kind of adored me, and now I adore him and my memories of him.
The most important things in this life I learned from my dad: Belief and acceptance of Jesus Christ, hard work, loyalty and commitment to family. I especially appreciate what he taught me about God because it wasn't until he was in his 60s that he realized what the bible was all about. He actually started reading it for a historical perspective, but ended up discovering Jesus and how His life (and death) impacted his life, and every person's life. It took me a while to understand what it meant to be forgiven and shameless in this life, despite our pasts and despite our failed efforts to live without sin.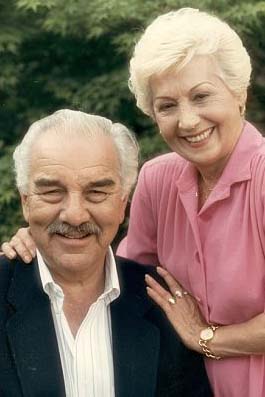 After my father's Jewish family disowned him for marrying my gentile, Sicilian/Catholic mother, he understandable had deep wounds and some unresolved issues in his life. On a side note, because of his family's decision, my brothers and I never knew anyone, ever our grandmother, from the Jewish side of our family. Despite this, and the pain it likely caused, he was a good-hearted, funny, man who tried his best to be a good father. And he was.
So I'm reminded of him as I celebrate knowing Christ in my own life, because had it not been for his courage in talking openly to his grown kids about his faith, despite our rolling eyes,  I may not be a believer today.  I also remember him in the some of the smallest ways,  like enjoying the simple, wonderful taste of poppy seed and red onion flatbread.

Garlic, Onion and Poppy Seed Pizza
Prep time:
Cook time:
Total time:
Serves:
makes 3 medium pizzas
Ingredients
For the dough
5-6 cups "00" flour, or unbleached all-purpose flour
1¾ cups water
2 teaspoons olive oil
1 teaspoon salt
1 tablespoon sugar
2¼ teaspoons yeast (I used 1 packet Active Dry Yeast)
2 teaspoons vinegar
1 teaspoon dried rosemary
1 pound fresh strawberries
6 fresh basil leaves
1 (or more) cups feta cheese
drizzle of extra virgin olive oil
For the Topping
1 large or 2 medium red onions, sliced thinly
5 garlic cloves, minced or crushed
¼ cup poppy seeds
kosher salt
1 tablespoon extra virgin olive oil
½ cup Pecorino Romano cheese, shredded or shaved
Instructions
Add yeast to 1¾ cups lukewarm water (make sure it's not too hot to avoid killing yeast); stir in sugar, vinegar and olive oil and let sit for about five minutes until foamy.
In bowl of stand mixer, combine all ingredients (start with 5 cups of flour). Using dough hook, mix on medium speed for about 4 minutes, or until flour gathers to form a coarse ball. Let dough rest for a few minutes; mix again for an additional few minutes, or until the dough clears the sides of the bowl and sticks just a little to the bottom. If dough appears too sticky, add more flour by the tablespoon. To test, gently stretch a small piece of dough - if should be stretchy and translucent in center. If not, process a little more.
Transfer dough to a floured counter, dust the top with flour to absorb the surface moisture, then fold dough into ball.
Place in a bowl that has been brushed with olive oil, cover with plastic wrap, and cover the top of the bowl with a towel. Let sit at room temperature for at least 90 minutes. Dough should double in size.
Transfer dough to floured counter, punch down, knead a couple times, and divide dough into 3-5 equal pieces; form into balls. Rub each ball with olive oil. Place in individual airtight plastic bags and refrigerate 2 – 12 hours.
Remove from refrigerator 1-2 hours before using. Note: I cheated and made a pizza with one of the dough balls without that last rise in the refrigerator, and the taste and texture was very good. But it's *way* better the next day or two. Use within 3-4 days or freeze for up to 3 months.
To prepare pizza, place pizza stone in oven and heat oven to 500 degrees F, at least 20 minutes prior to baking pizza. Dust dough (and fingers) with flour.
On pizza peel dusted with cornmeal, press and stretch dough to 10-inch round. Lightly drizzle with olive oil, spread layer of crushed garlic, and sprinkle with a little kosher salt. Spread or sprinkle layer of poppy seeds, then arrange onions in the center. Follow with some pecorino.
Slide pizza from peel onto stone (being careful not to let toppings slide off) and bake for about 9 minutes, or until crust chars a bit and onions look slightly roasted.
For more images of the pizza preparation, check out my other recipe for
Garlic and Jalapeno Pizza
.