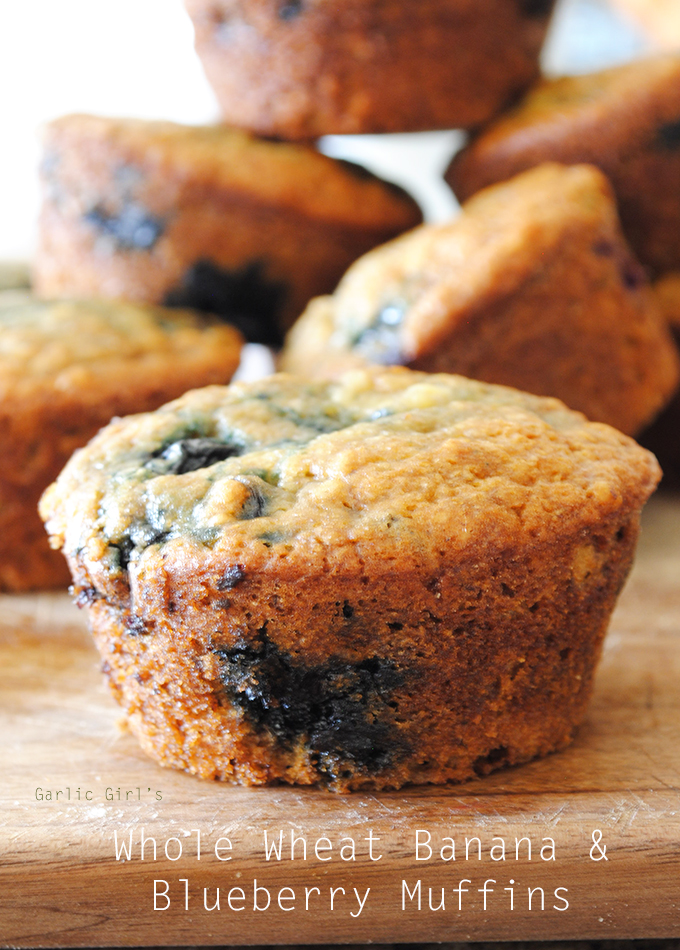 If you follow my blog posts, you may know that I am a morning baker who loves to wake up before the sun rises to start experimenting with almost any kind of dough or batter. For me, there's something so peaceful about the subtle aroma of warm vanilla, or the feel of kneading dough in a quiet, morning kitchen.
The other morning I decided I needed to bring blueberry muffins to work. I had no idea this recipe would get added to my blog until I handed the muffins out at work and received really positive feedback, and got several requests for the recipe. Who knew that something so simple as blueberries and bananas would make such an exciting muffin?
If you're looking for a subtly sweet, healthy morning muffin (with bursts of juicy blueberries) you found yourself a winner!
Enjoy!

Whole Wheat Banana & Blueberry Muffins
Prep time:
Cook time:
Total time:
Ingredients
2 cups whole wheat flour (I prefer King Arthur's White Whole Wheat)
1 cup all purpose flour
2 teaspoons baking powder
1 teaspoon baking soda
pinch of salt
4 very ripe bananas, mashed
1 cup brown or granulated sugar
1 stick butter, melted and cooled
2 eggs
1 teaspoon vanilla extract
1½ cups fresh or frozen blueberries
Instructions
Heat oven to 350 degrees F. Grease muffin tin with butter or baking spray and lightly flour.
In bowl of stand mixer, or medium mixing bowl, whisk together flours, baking powder and baking soda, salt. On low speed, add butter and mix until well-blended, about 30 seconds.
Add bananas, sugar and beat until incorporated. Add vanilla extract and eggs, one at a time; beat on medium for another 20-30 seconds. Gently stir in blueberries.
Fill muffins cups to ¾ full and bake about 22 minutes until golden brown and center springs back when lightly touched.
Let cool on rack for 10 minutes before carefully removing muffins.