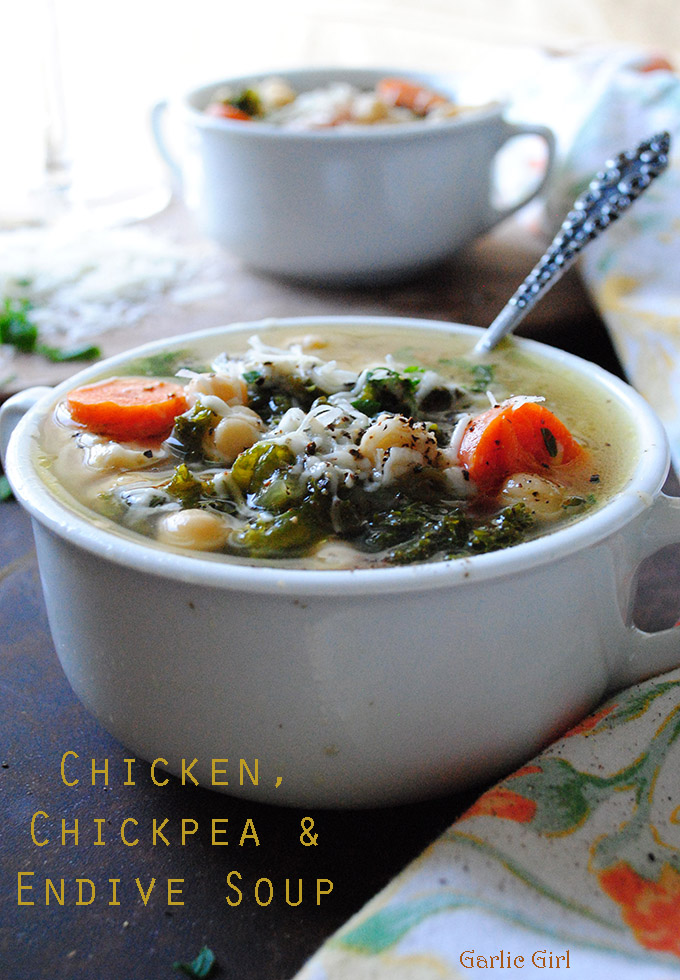 It's the time of year when I start to get a little melancholy as summertime starts to blow us goodbye kisses in the form of Indian summer. I'm soaking up as much warmth as possible before the weather changes.
As much as I hate to see summer go, I still find myself anticipating the cooler, cozier months of fall and winter. I like the thought of brisk days and nights when we can pull out our leather boots and wear chunky sweaters and scarves. And of course I'm already dreaming of simmering pots of soup that steam up the kitchen windows.
When it comes to soup, I like to make and eat it year-round, but I tend to get a little more enthusiastic about it when it's dark, rainy and cold outside. It often reminds me of coming in from snowy days in the small New England town I grew up in, to find my mom's chicken soup waiting for us. She sure was a good soup maker, and I miss her cooking.
It's been about two years since she died, and I still find myself thinking I should stop by and see her on the weekends. It's funny how our brains work. With some family turmoil lately, I've had scattered thoughts about if my mom realized how much I loved her. Kind of deep, but I also wonder if she realized that I had truly forgiven her for some of the ways we both felt she caused me pain. The truth of the matter is that I caused myself more pain in my life than she ever could as a parent, so any attempt at blaming her for my issues was a real waste of time. Sometimes I just wish we could know important things sooner than we do, but unfortunately that's not the way life works.
I wish I could convince some of the closest people in my own life, that we have way more control over our day-to-day happiness than we think. And the main ingredient, in my opinion, is to just flat-out forgive people. Forgiveness is really, really powerful. Forgiveness is one of the biggest reasons that my faith in God is so strong. It just makes so much sense when nothing else does. If I ever find forgiveness difficult to do, I just ask myself if I would like to be forgiven by someone for mistakes I've made – and the answer is always a big, fat yes. So then, why shouldn't I give that gift to someone else.
I believe with all my heart that Jesus died on the cross to bare our sins, so we can be forgiven. That makes sense to me in my life, and it makes even more sense from my perspective of the world, and for all humanity.
It's sort of fascinating how soup can remind me of my mom, who reminds me of life – even more so now that she's gone – which reminds me of the importance of forgiveness. And of course that reminds me of what matters above all else: love.
Love someone today with a bowl of soup, and a couple spoonfuls of forgiveness – it's delicious!
This chicken and chickpea soup is very comforting. I'm a big fan of garbanzo beans, although you can add just about any kind of bean to this soup. If you can't find curly endive, just use spinach, mustard greens, kale or my favorite – escarole. And if you don't make beans ahead of time, throw in canned – you'll hardly know the difference!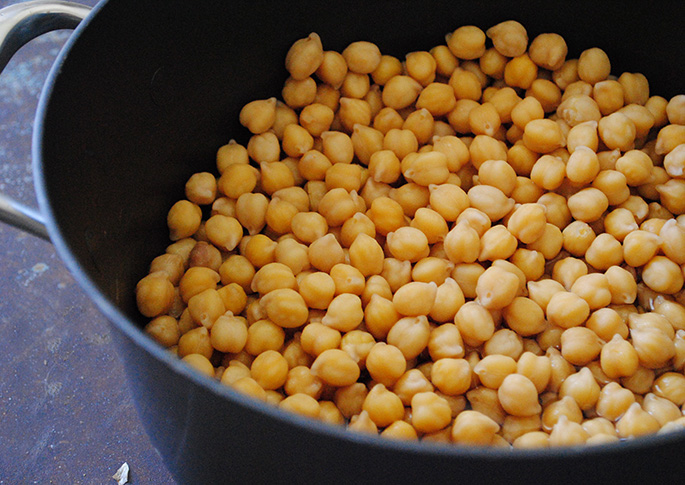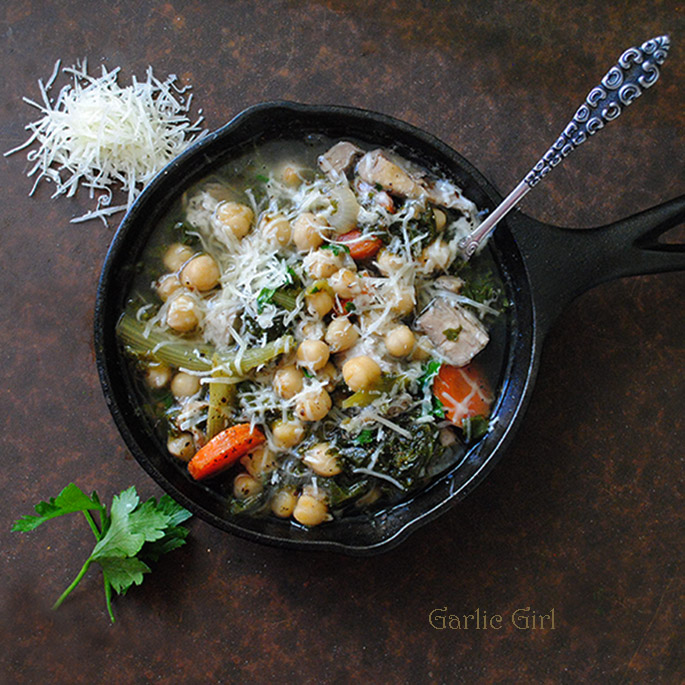 Chicken, Chickpea and Endive Soup
Prep time:
Cook time:
Total time:
Ingredients
1 whole chicken, cut up
2 tablespoons olive oil
2 cups dried garbanzo beans, or 2 cans cooked garbanzo beans
1 large bunch fresh, curly endive, roughly chopped
3 carrots, chopped
I medium onion, peeled and diced (or sliced)
5 cloves garlic, crushed or finely chopped
½ white wine or beer
¼ fresh parsley, finely chopped
salt, to taste
ground black pepper to taste
¼ cup parmigiano cheese, shredded or grated
Instructions
Cook Garbanzo Beans per your preferred method. Drain and set aside.
In heavy bottom, 8-quart pot, brown chicken in olive oil for several minutes. With slotted spoon remove chicken and let cool; do not drain drippings from pot.
In the same pot, sauté onions, carrots, celery for about 7-8 minutes until tender, adding the wine after about five minutes. Add the garlic and continue to sauté for another minute or so. Remove veggies with slotted spoon; do not drain drippings from pot.
Fill pot with about 6 quarts of water and bring to a boil. Peel skin off chicken pieces and add to pot of water. Turn heat down, cover simmer for about 35 minutes until chicken is cooked, making sure to skim off any foam that forms at the top.
Remove chicken, let cool to touch and remove meat from bone; discard bones. Return meat and sautéed veggies to the pot. Season taste. Once simmering again, add the garbanzo beans and the endive and simmer for about 15 minutes.
Serve hot, with garnish of grated parmigiano and chopped parsley.