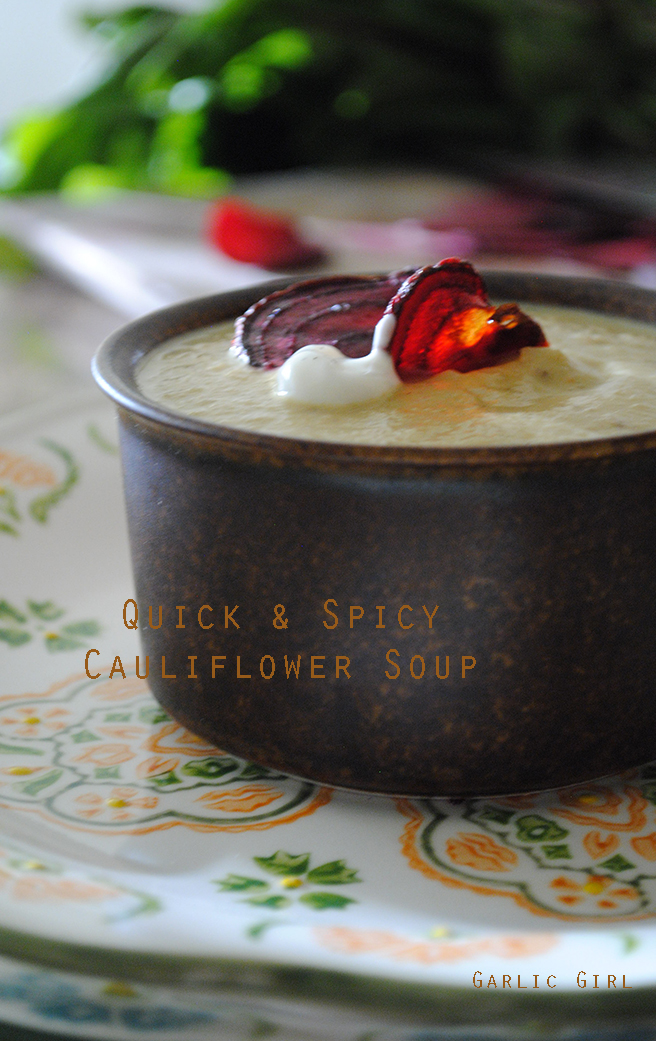 It's finally feeling like fall in Northern California and I'm ready to get all tucked in with warm blankets, tea lattes and a steamy kitchen. The weather is right in line with my where my heart is, and hot soup and comfort food is just what the doctor ordered.
Since my birthday just passed, I really should be posting my birthday cake recipe, but I think that would force me to be more reflective than I'm in the mood  for at this moment. I will share the story soon, along with the recipe for my bittersweet chocolate ganache birthday cake, but for now it's all about this delicious and comforting Quick and Spicy Cauliflower.
Perfect for a busy weekday meal, this soup only takes about thirty minutes. One cauliflower, a few other veggies, some warm spices like coriander and cumin – and you're all set. Feel free to play mix and match with this recipe because it's quite forgiving. I should also mention the part of this soup that got me feeling artistic – the beet chips. While you don't have to add them, they definitely added beauty and even more flavor to the soup. I actually garnished with a lot more beet chips (and juices) and Greek yogurt than what I added to the photo. This is what's great about making soup – it can be as creative as you want it to be!
Enjoy!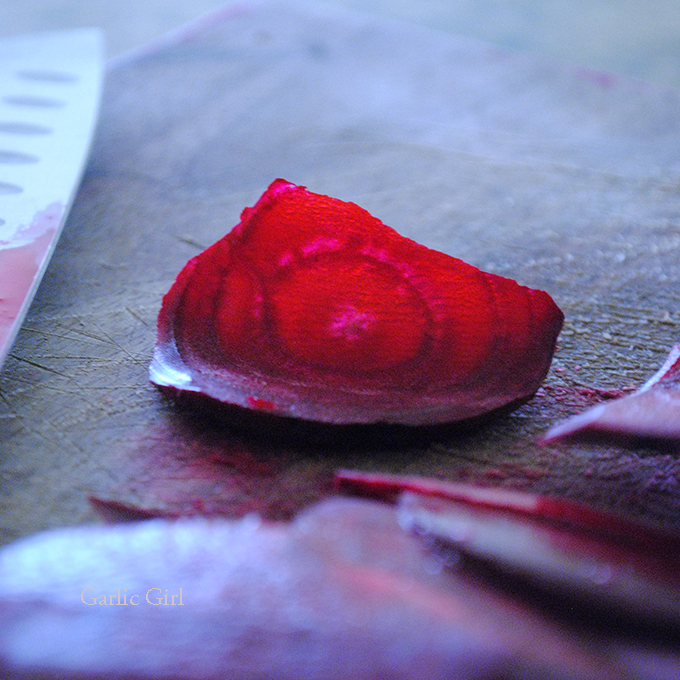 Quick and Spicy Cauliflower Soup
Prep time:
Cook time:
Total time:
Ingredients
3 tablespoons olive oil
1 teaspoon cumin seeds
½ teaspoon coriander
½ teaspoon cardamom
¼ teaspoon (or more) cayenne pepper
1 head cauliflower, chopped
2 carrots, chopped
1 medium onion, chopped
3 cloves garlic, finely chopped
optional: 1 jalapeno pepper, seeded and chopped
2 cups chicken or vegetable broth (or stock)
1 cup heavy cream (or preferred milk)
kosher or sea salt to taste
coarsely ground black pepper to taste
1 beet, sliced thinly
Instructions
In heavy-bottom pot or large skillet, sauté cumin seeds, onions, celery and carrots in 2 tablespoons of the olive oil until tender. Add garlic and jalapeno and sauté for another minute.
To same pan, add salt and pepper, spices and cauliflower; stir and continue to cook for a few more minutes until blended.
Add chicken broth, cover, and simmer for 25 minutes until cauliflower is tender.
Add heavy cream (or preferred milk like soy milk, or even coconut milk) and cook for another 5 minutes.
Puree with an immersion blender in the pot, or transfer to food processor or blender; process until desired consistency.
For beet chips, pan roast sliced beets in skillet with remaining olive oil for a couple minutes on each side; drain on paper towel.
Serve soup hot in individual bowls; garnish with beet chips and a dollop of Greek yogurt or sour cream.