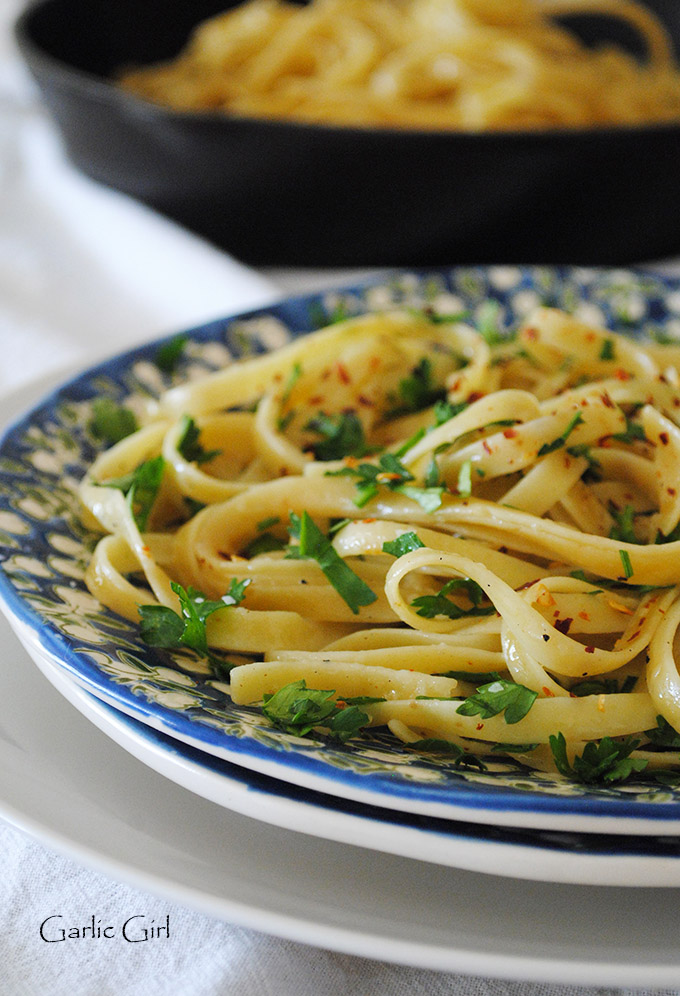 I guess we all have those couple of dishes from childhood that we remember and love. For me, the dish that really stands out in my heart and mind is my mom's and Aunty Connie's version of aglio e olio (garlic and olive oil) pasta. My favorite way to eat it was soupy and loaded with chunks of fresh garlic and lots of freshly grated Parmigiano.
Today, I don't often make it for myself (not sure why), but when my little grand kids comes over – I always try to make it. My little Jaye always asks me to throw some prawns in it too, and of course when a grandchild asks their  Sicilian grandma for a special dish – she must oblige. Without question.
The thing about this dish, is that while it's one of the simplest recipes to throw together, it still has to be down right for it to be completely delectable. Here are a few tips for the simple one-pan pasta:
– Always reserve pasta water before draining – at least 1 cup, especially if  making a pound of pasta.
– Don't overcook the pasta – just cook to al dente. Read the cooking instructions on the pasta package if needed.
– Have the prepared pan ready and heated when the pasta is cooked. In other words, heat the pan a few minutes before the pasta is done.
– Use fresh garlic and freshly grated Parmigiano or Romano. My favorite is Pecorino (I typically purchase mine at Trader Joe's).

Simple Garlic and Olive Oil Pasta
Prep time:
Cook time:
Total time:
Ingredients
I pound pasta (spaghetti, linguini, etc)
5 cloves fresh garlic, chopped, crushed or sliced
¼ cup extra virgin olive oil
¼ cup fresh parsley, finely chopped
½ cup Parmigiano or Romano cheese, freshly grated (I prefer Pecorino Romano)
kosher salt to taste
½ teaspoon black pepper, freshly ground
optional, 1 teaspoon red pepper flakes
Instructions
Fill an 8-quart stock pot with water to ¾ full. Bring to boil, add 1 tablespoon salt and 1 tablespoon olive oil, and pasta. Cook until al dente.
While pasta is cooking, add 2 tablespoons of olive oil to large fry pan. When pasta is five minutes away from being done, heat fry pan on medium.
Once pasta is al dente, add garlic and crushed pepper to the heated fry pan and toss for about 30 seconds - and then add pasta, directly from the water, to the pan. Carefully toss until coated with olive oil. Add more if needed.
Season with salt, pepper and ¾ of the fresh parsley. Taste and add more seasoning if needed. Add reserved pasta water, 2 tablespoons at a time, until all ingredients are combined, moist and steaming hot.
To serve, add to individual plates with plenty of grated cheese and additional red pepper flakes if desired. Garnish with fresh parsley.
Enjoy!