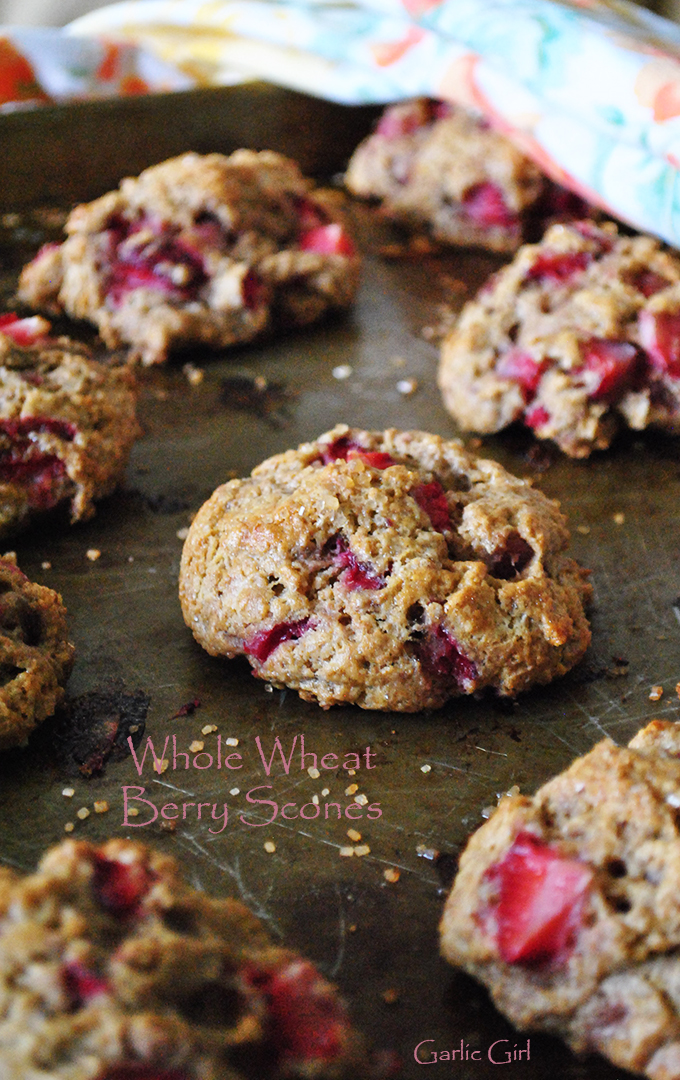 I didn't feel so hot this morning, so I made these scones. Not sure why, but sometimes baking just makes me feel good. It's true. I had a choice to stay in bed, pull out the laptop and work from home all day – OR – get my butt up and try to move around like everything's normal. It actually worked.
If you know me, or follow my blog at all, you may know that I am a scone fanatic. I just love the idea of throwing some flour in bowl with a little butter, and within minutes something wonderful is baking in the oven. Scones are just so easy to make, and it's not even necessary to form them at all. It took me less than ten minutes to have these tummy warmers in the oven. I just dropped them on the baking sheet and they came out beautiful. For me, scones trump muffins because they are closer to a biscuit, and biscuits are the best.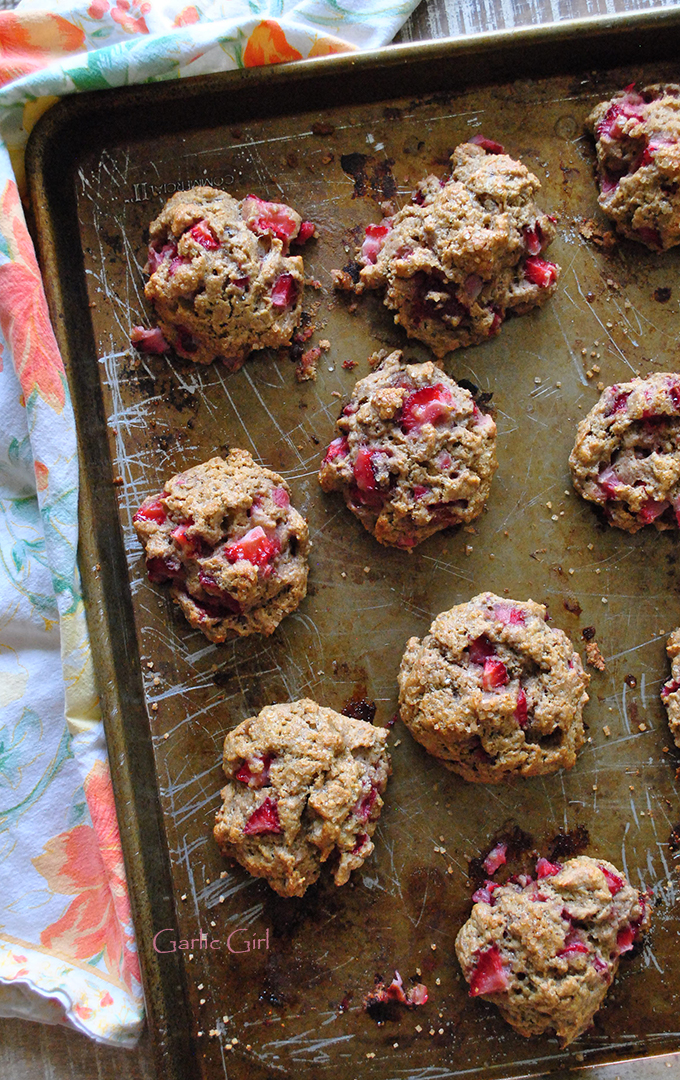 Whole Wheat Berry Scones
Prep time:
Cook time:
Total time:
Ingredients
1½ cups fresh strawberries, chopped
1 cup whole wheat flour (I prefer white whole wheat)
1 cup all purpose flour
1 teaspoon baking soda
¼ teaspoon salt
¼ cup brown sugar
1 stick butter, cold
1 cup half and half
1 egg (for egg wash)
1 tablespoon Turbinado sugar, for dusting
Instructions
Heat oven to 375 degrees F.
Beat egg with a little water; set aside.
Whisk together dry ingredients.
Cut butter into flour mixture so that it's blended, and with small chunks of butter still visible. Note: I recommend grating the butter when it's very cold, and then using your fingers to incorporate into the flour.
Add strawberries and combine with flour. Pour in half and half and gently mix until most of the flour is absorbed. Do not over mix. Empty onto parchment paper, or floured surface and gently form into disk. I like to fold the dough on top of itself using the sides of the parchment paper.
With hands or ice cream scoop, drop golf-ball size portions of dough onto baking sheet.
Brush tops of scones with egg wash and sprinkle with turbinado sugar.
Bake for about 25 minutes until tops are golden brown.
For these scones, I used half whole wheat flour, but you can certainly use 100 percent. You may just need to add a little more liquid.