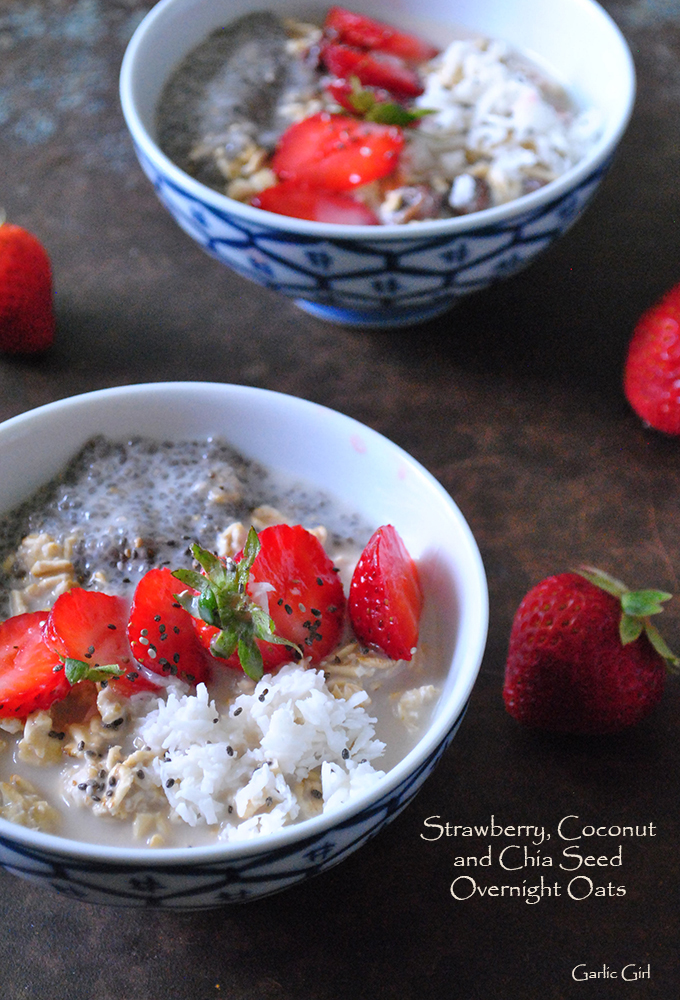 American breakfast sure has changed over the years, hasn't it? For the most part, it used to be either cereal, oatmeal, or eggs and bacon. And now it's getting all healthy, pretty and exciting – just like this bowl of strawberry overnight oats.
Unfortunately, I fluctuate between eating really healthy and eating whatever the heck I want. I'd like to think I do more of the healthy stuff, because the older I get the more I realize how much I really need to feel good.
This past week I made these overnight oats after being given the most beautiful freshly-picked strawberries. Overnight oats are the best, especially during the work week because it's such and easy way to grab a healthy breakfast to go with you to work.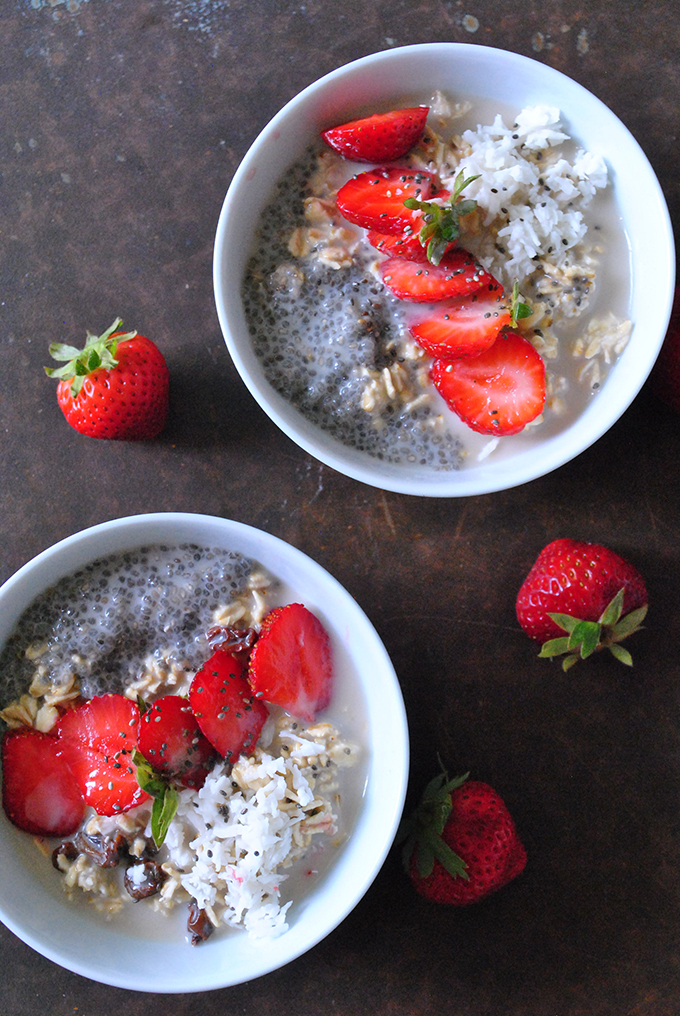 Soak Chia Seeds!
One of my new favorite additions to overnight oats are chia seeds. Lately I've been soaking the seeds overnight in almond milk to  give the seeds a little more personality when it comes to texture. That one extra step made a big difference in these strawberry coconut overnight oats.
Also, I recently discovered stone-ground coconut butter which has more taste and a creamier consistency than coconut oil. This is definitely not a sponsored post, but in case you're curious about what I used in this overnight oats recipe, it's Ostara Stone Ground Coconut Butter.
Make it Your Own
The great thing about simple recipes like this one, is that you can make them your own. Choose whatever milk you prefer – the choices these days seem limitless!
And add your favorite toppings, like fruits and nuts – and even veggies. May sound weired to some, but I enjoy making SAVORY overnight oats with seeds and olives.
Whatever you do, just don't be afraid to experiment.
Enjoy!

Strawberry, Coconut and Chia Seed Overnight Oats
Ingredients
½ cup rolled oats
1½ cups almond milk (or preferred milk)
1 cup (8) fresh strawberries, sliced
1 tablespoon chia seeds
optional: 1 teaspoon coconut butter
1-2 tablespoons shredded coconut (I prefer natural, unsweetened)
raw honey to taste
Instructions
Soak oats overnight in small covered container with ¾ cup of almond milk. In another small container, soak chia seeds in ¼ cup of almond milk.
When ready to prepare, in small bowl add the oats. Spoon on chia seeds, strawberries, and coconut. Drizzle with remaining almond milk, and honey if desired.
Note: if desired, warm coconut butter and stir with shredded coconut before adding to bowl.