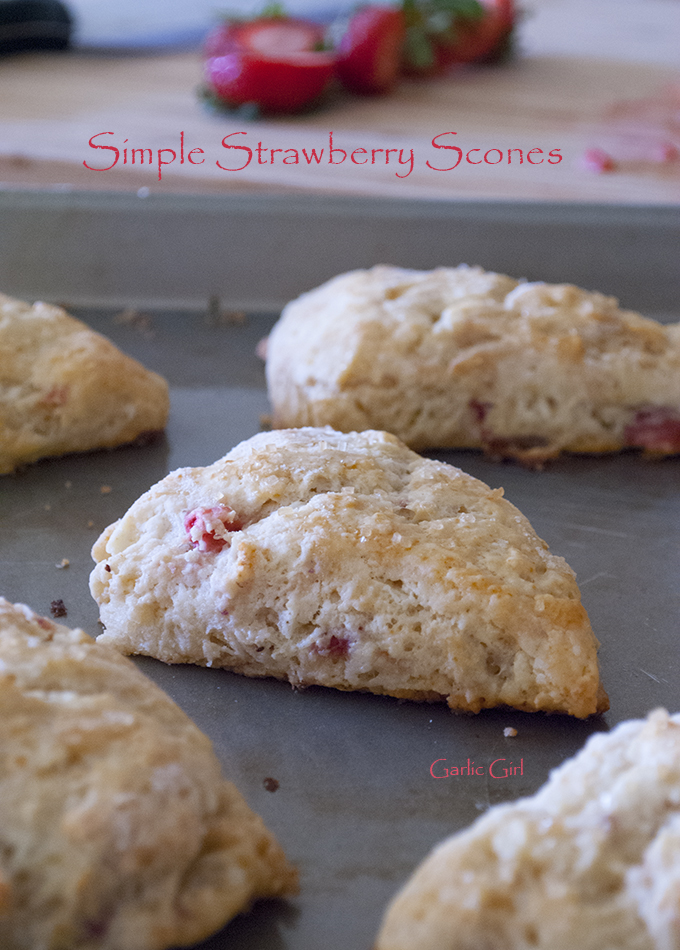 Let's get straight to the point: These strawberry scones are incredibly easy to make, but they taste like they could have come from your favorite bakery or pastry chef. I'm not kidding. They are perfectly crispy on the outside, and tender in the middle.
I'm thinking these are a perfect Mother's or Father's day treat because they definitely won't take up too much time in the kitchen. I made these before work and from start to finish it took only about 30 minutes – and 20 of those minutes was just the baking time.
I have so much to talk about, but at the moment I don't have time to share in the way I want to. This means you have to wait until the next post.  And that should be very soon!
In the meantime, I hope you are all happy and hopeful.
Enjoy!

Simple Strawberry Scones
Prep time:
Cook time:
Total time:
Ingredients
1¾ cups all purpose flour
2 teaspoons baking powder
2 tablespoons sugar
pinch of salt
½ - 1 cup fresh strawberries, diced
1 stick (4 ounces) butter, chilled and cut in ½ inch cubes
¾ cup milk
1 teaspoon vanilla
2 tablespoons Turbinado or brown sugar
Instructions
Heat oven to 375 F degrees.
In mixing bowl, whisk together flour, baking powder, salt and sugar.
With electric mixer, using paddle attachment, add butter and process on medium until butter is incorporated, and pea-size chunks of butter still remain. If mixing manually, cut in butter with 2 knives or pastry cutter.
On low speed, add milk and vanilla extract until mixture starts to hold together (about 30 seconds).
Add strawberries and gently fold in, or knead. Do not over mix - it's ok if dough is shaggy or damp - it will come together in next step.
On floured surface (and with floured hands), knead dough a few times, shaping into flat, round disk (about 1 inch thick). With floured knife, cut "pie" into 8 pieces.
Place on lined (or greased) baking sheet and brush tops with a little milk and sprinkle with turbinado or brown sugar.
Bake for about 20 minutes until tops are light, golden brown.